Ivy World School organized "Dussehra Platter" in Kindergarten wing
Young learners of K1 & K2 showcased their talent by Ravana face using cookies, fruit and vegetables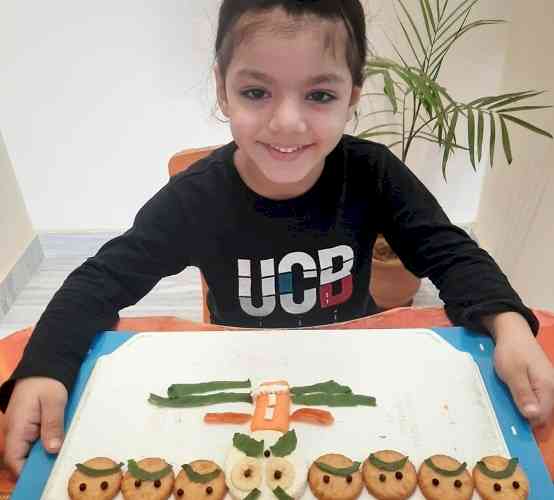 Jalandhar: Ivy World School, under the ageis of the Vasal Education Society organized the "Dussehra Platter" in the Kindergarten wing.
Heralding the festive season, Ivy Dussehra was celebrated through various activities including decoration of Idol Goddess Durga's face, making of Ravana face with cookies, fruit and vegetables. The essence of this activity was that children use those things which were easily available at home.
Young learners of K1 & K2 showcased their talent by Ravana face using cookies, fruit and vegetables in a tray with a moral message "do not waste anything", let's utilize everything. 
Little tiny tots enjoyed this activity too by decorating the face of Goddess Durga with colourful bindis, studs, stones & crayons. 
Mrs.S. Chauhan, Principal, Ivy World School congratulated and appreciated the support and cooperation given by parents and our  little Ivyians in making this activity a memorable one .The President of Vasal education Society, Shri K K Vasal, The Chairman Mr. Sanjeev Kumar Vasal, The Director Mrs. Ena Vasal, and The CEO Mr. Raghav Vasal congratulated the educators for "do not waste anything", let's utilize everything"  idea and appreciated for creating such platforms to explore a child's imagination and build confidence through virtual technology.