Ivy World School of  Vasal Educational Society celebrated "Vijaydashmi"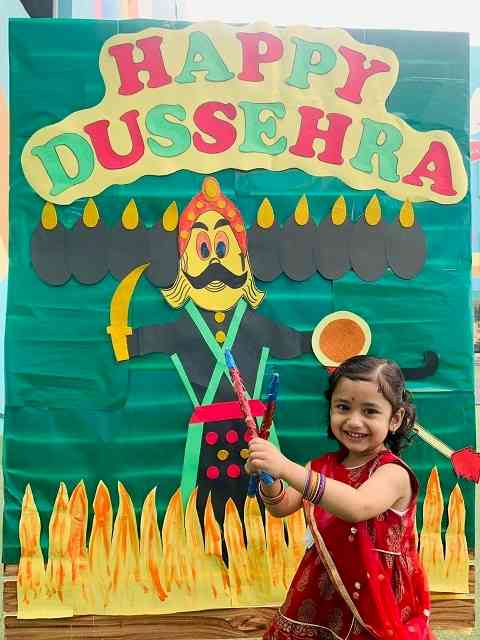 Jalandhar, October 14, 2021: Learn to admire, not to envy. Remember to work and not to regret it. Dusshera festival is one of the happiest and holy occasions for Hindus. It marks the end of the Navratri festival.
To keep the festive spirit alive, young Ivyians took part in a variety of activities, such as having a child speak about the festival's significance, having a child dress up as any character from the Ramayan and act as that character, having a child create a beautiful backdrop related to the festival, and so on. Children can convey information and create awareness about the issue by dressing up in traditional attire and performing Dandiya to the sounds of traditional tunes. "Our admirable goal of adhering to safety laws will enable us to defeat the dangerous pandemic." The day's highlights were Dussehra speeches, a literary Ramayana, and dance to the Hanuman Chalisa.
Mrs. S. Chauhan, Principal of Ivy World School, addressed the kids, explaining that the objective of the celebration was to remind the pupils of the oft-repeated lesson that virtue triumphed over vice. The President of Vasal Educational Society, Sh. K K Vasal, Chairman Mr. Sanjeev Kumar Vasal, Director Mrs. Ena Vasal, and CEO Mr. Raghav Vasal all wished the teachers and students luck for the festival season ahead.