Ivy goes the promised way – online
The school management urged everyone to be safe at home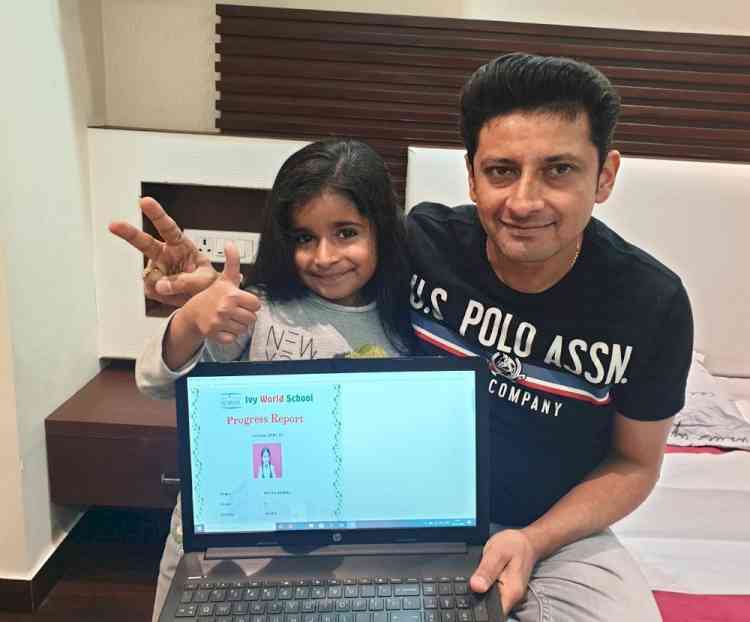 Ivyian with her father felicitating the e-report card.
Jalandhar: In this time of severe crisis, Ivy World School, Jalandhar, shows the way towards innovative teaching by shifting to online communication and teaching. As the nation steps into self-quarantine for the safety of the general population to contain the pandemic that threatens humanity all over, the school has started with the posting of the result for grades beginner to grade eighth online on the school portal giving each individual parent the chance to view and download the material at their convenience at home or on their mobiles, without unnecessary contact at any level. 
The same is being done with teaching and lessons as the students are required to be gainfully employed so the parents who are working from home may do their jobs to the fullest. It is an effort on the part of the school authorities along with the management to help the parents, society and the administration in taking corrective precautionary measures in the time of crisis. Parents and children are being helped by a team of experts ranging from the educators to the IT experts to solve any issues and bring forth clarity regarding the working from home concept. The teams are working tirelessly and the entire faculty is in constant touch using the online medium to help Ivyians tide over this difficult time. 
The management urges everyone to be safe at home and check the regular updates being sent explaining that the portal is being constantly manned to check and solve any enquires or issues along with dispensing necessary information regarding result, lessons, admissions or miscellaneous enquiries.