It's good to be back in Jaipur: Sumeet Vyas 
He promotes his recently released series Dark 7 White in the Pink city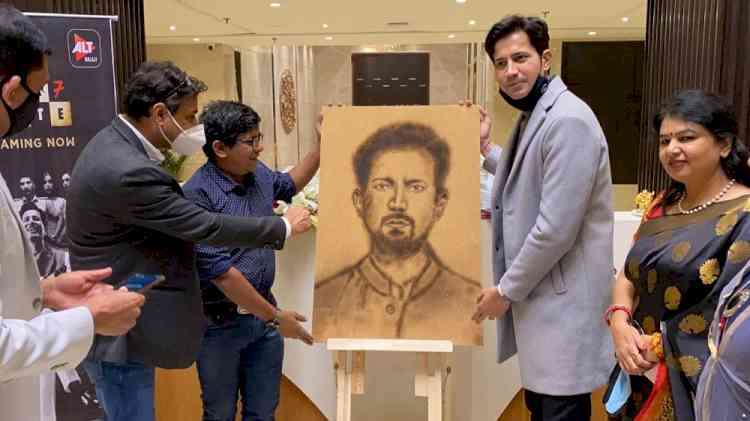 Dark 7 White, a crime-mystery by ALTBalaji and ZEE5, is garnering a lot of love and appreciation from the audience. Keeping their fans on the edge of their seats, the web series delivers some fantastic performances from its stellar cast! Donning the lead role of the show, actor Sumeet Vyas plays a college student and an aspiring politician. He has been receiving immense love for a never-seen-before role as Yudi in the show.
 
Given the amount of appreciation the Jaipur based show is receiving, Sumeet Vyas recently flew to Pink City to celebrate the show's success. Sumeet interacted with the local media there and visited the city to immerse in its beauty. He even dropped by at a local sweet shop at Raja Park and indulged in the authentic flavours of 'Pyaaz Kachori' and 'Rajbhog'. Sumeet also visited Creature Foundation- an NGO based in Raja Park where he spoke about women empowerment. Later the talented actor visited a local art gallery where he met the young politicians and reputed delegates of Jaipur understanding the political scenario of the city. Renowned artist Ajit Kumar created a portrait of Sumeet using fire art, which was gifted to him as a token of love, which he humbly accepted.
 
Speaking on the visit, the actor said, "I had the most amazing experience revisiting Jaipur. I love Rajasthan and It's good to be back in Jaipur. Also, most of my projects have been shot in Rajasthan and so is Dark 7 White shot in Bikaner."
He adds, "I couldn't visit the local markets here or meet people when we came last time for the shoot, but I am glad I could make up this time. The hospitality that I received here from people has been overwhelming. Being one with a sweet tooth, I also visited the local sweet shops here and packed them for my family back in Mumbai."
 
With the state and its culture playing an important part in the series, Dark 7 White also features a beautiful Rajasthani folk song 'Laal Peeli Ankhiyaan', re-composed by Arpit Mehta and Udit Prajapati and crooned in the beautiful voice of the Rajasthani choro Bohra Lalit Ashok, that fits perfectly in the setting and has struck the right chord amongst fans.
 
Dark 7 White is an urban youth-oriented political murder mystery, narrated in a quirky storytelling style laced with dark humour. It is a gripping story about seven friends having high profile jobs, with the tale shedding light on how their situation wasn't the same back in their college days. What adds to the intrigue is the story of how one of these seven characters uses the other six for his advantage.