ISIC successfully removes shoulder bone tumour in 18-year-old body in 20 minutes and a single stitch
The south Delhi boy was complaining of chronic unrelenting pain in his left shoulder since 2 years and was diagnosed with a tumour, medically known as Osteoid Osteoma in his left shoulder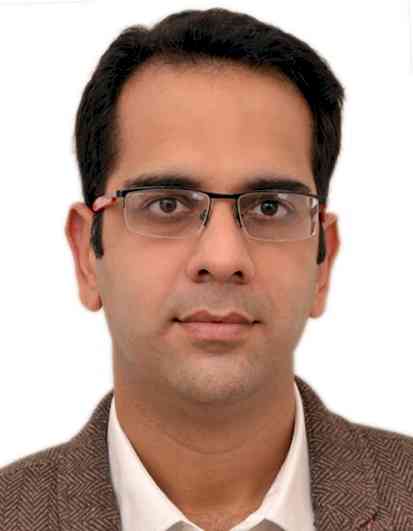 Dr. Hitesh Dawar, Specialised fellowship trained Orthopaedic Oncosurgeon, Indian Spinal Injuries Centre, New Delhi.
New Delhi: Doctors at the Indian Spinal Injuries Centre (ISIC), New Delhi last month successfully employed a short and advanced, highly-specialised surgical approach to cure an 18-year-old boy of bone tumour using just a single stitch incision.
The boy from south Delhi was complaining of chronic unrelenting pain in his left shoulder for the past 2 years. The pain was most severe at night time and did not let him sleep, and increased his dependence on painkillers and anti-inflammatory medicines for relief that was temporary. It also affected the college student's day-to-day life – he could not concentrate at all in his studies and undertake any activities without pain.
"He consulted specialists at other hospitals and then came to ISIC in February this year. He was diagnosed with a tumour on the left humerus (the shoulder bone), medically known as osteoid osteoma. Though the tumour was benign, it was very painful. Osteoid osteoma commonly occurs in bones and spine of young patients; it can cause severe episodic pain which is most severe at night, and might have other related impacts in bone and spine. After the required tests, he was treated with radiofrequency ablation (RFA) operation of the tumour wherein the tumour cells were killed within the bone using an RFA device through a single-stitch surgery. The most challenging part was to localise the tumour and place the RFA probe (the needle-like part that penetrates the skin and bone to reach the tumour) in the correct spot through a small cut – we did it easily by using intraoperative X-rays with minimal radiation exposure. Radio frequency ablation is a very specialised minimally-invasive surgery (MIS) that took us about 20 minutes in this case, and only a handful of centres throughout India have the facilities needed. In few centres, it is performed under CT guidance but at ISIC, we perform the surgery in general anesthesia that gives greater precision and control. It helps us avoid heavy radiation exposure of CT-guided surgery or complications associated with an open surgery.  We perform it in regulated circumstances and deliver excellent results," says Dr. Hitesh Dawar, Specialised fellowship trained Orthopaedic Oncosurgeon, Indian Spinal Injuries Centre, New Delhi.
Osteoid Osteoma occurs when certain cells divide uncontrollably, forming a small mass of bone and other tissue. This growing tumour eventually replaces healthy bone tissue with abnormal, hard bone tissue and there is no known reason as to why this occurs.
"Osteoid Osteoma is a common bone tumour of the young age group accounting for about 10 per cent of all symptomatic bone tumours. It is common in young age groups and second most common non-cancerous bone tumors that is twice more common in boys than girls. India has a huge population and thus the total caseload is expected to be large but there are no exact numbers due to unorganised data collection and maintenance. RFA surgery is a better way to treat such tumours as it reduces the complications, the radiation exposure and the stay in hospital – the patient was discharged the next day of the surgery while in case of an open surgery, he might have a longer stay. He has been advised to avoid using the arm for heavy activities or sports for the first few weeks to allow appropriate regaining of bone strength but he can carry out all routine activities of daily living since day 1 after the procedure," says Dr. Dawar.