An intriguing book on the forgotten history of Insulin authored by legendary Diabetologist Dr. V Mohan launched in the city today
The book titled, Banting, Bose and Beyond also brings together captivating real-life stories of adults and children who are battling Diabetes with courage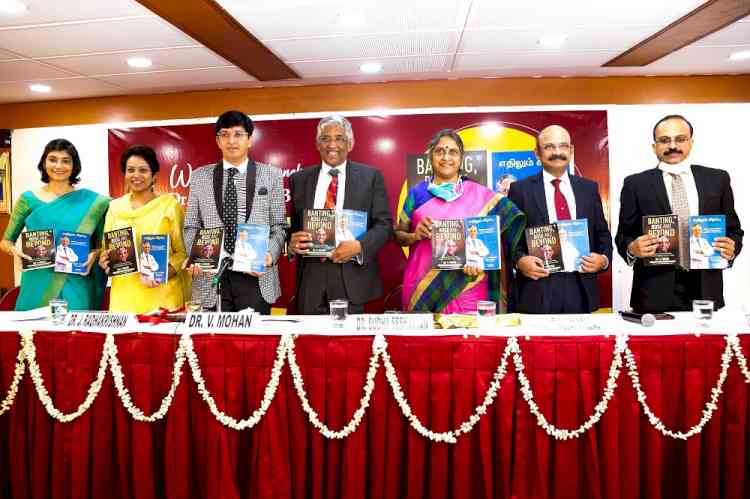 Chennai, May 30, 2022: With many young Indians having type 1 Diabetes, Insulin has truly become a life-saving therapy in the field of Diabetology today, as there is no other medicine other than insulin for those with type 1 diabetes. Unearthing the fascinating story of Insulin, its journey into India and the countless lives it has saved, Dr. V Mohan, Chairman and Chief Diabetologist, Dr, Mohan's Diabetes Specialities Centre launched his latest book titled, Banting, Bose and Beyond: Inspiring Stories of How Insulin has Changed Lives in India.  Chief Guest of the function, Dr J. Radhakrishnan – Principal Secretary, Health and Family Welfare Govt. of Tamil Nadu officially released the book today and praised Dr. Mohan for writing such an inspiring book. The first copy of the book was received by a distinguished Theater artist and a Chartered Accountant- Mrs Roshan Poncha, who has herself lived with type 1 diabetes for over 40 years and is featured in the book.
On this momentous occasion, the Tamil edition of Dr. V Mohan's bestselling autobiography 'Making Excellence a Habit' called 'Ethilum Sirappu' was released by Dr. Sudha Seshayyan – Vice- Chancellor, Dr. M.G.R Medical University and the first copy was received by Dr Su Thillai Vallal, renowned  Cardiologist & Medical Director, Venkateswara Hospital, Chennai. Dr. Sudha Seshayyan was also full of praised for Dr. V. Mohan and his contribution to Diabetology.
Commenting on the launch, Dr. V. Mohan, Chairman and Chief Diabetologist of Dr. Mohan's Diabetes Specialties Centre said "I am thrilled to be launching a book that traces the journey of Insulin and how this wonder drug saved millions of lives since its discovery 100 years ago at Toronto Canada by Dr. Fredrick Banting. The stories I have captured in this book date back to when I was starting out in the medical field, working with my father, to the recent times. During my research for this book, I also discovered the contributions of Dr. J.P. Bose, the forgotten hero of Indian Diabetology who was the first doctor in India to document the benefits of insulin. Having spent half a century working in the field of diabetes, I was privy to not only how insulin had saved, but also how it had transformed, the lives of those with insulin dependent type 1 diabetes and also those with type 2 diabetes. These true stories chronicle love, compassion, empathy and joy and also discrimination, stigmatization, neglect, hate and suffering. The objective of the book is to instill hope and courage in children and adults with type 1 diabetes. I hope, when they read the book, they will realize that they are not alone, but are part of a large community."
 
"I am confident that this book would be of interest not only to people with diabetes and to those who treat diabetes but also to the public at large, to medical students and to anyone else interested in the welfare of people with diabetes in general. I am equally thrilled to be releasing my autobiography in Tamil called 'Ethilum Sirappu'." Dr. V Mohan added.
 
Banting, Bose & Beyond is published by Notion Press and is available through the Notion Press website as well as on Amazon India, Flipkart and other platforms. It is priced at Rs. 299/- A kindle version is also available on e-commerce platforms. The Tamil book is published by Scitech Publications (India) Pvt. Ltd and is also available online.