INTERNET PHENOMENON AND VIRTUAL ELECTRO-POP GROUP STUDIO KILLERS RELEASE THEIR CATCHY NEW SINGLE 'UNDERNEATH MY RAINCOAT'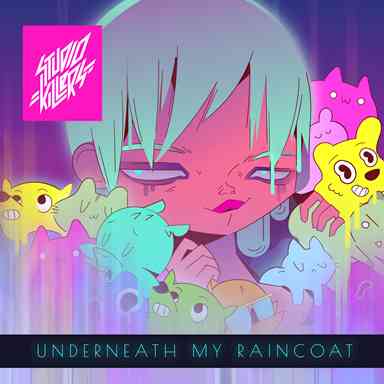 Internet phenomenon and virtual electro-pop group Studio Killers return with the vibrantly uplifting new single 'Underneath My Raincoat' is out.
The release is the follow-up from their global smash hit 'Jenny (I Wanna Ruin Our Friendship)' which was an international success following the viral #ruinourfriendship trend on TikTok which inspired over 11.6 billion video views. The track shot up viral charts worldwide, charting in more than 53 countries and Global Viral Charts, 90% of which were in the Top 10. The music video also proved an unlikely YouTube success, accumulating over 165 million views to date and over 200 million streams on Spotify alone. 'Jenny (I Wanna Ruin Our Friendship)' soon went gold in the US, without any radio play and from pure stream consumption only.
Speaking about the upcoming 'Underneath My Raincoat' release, Studio Killers say "We wanted to make a very uplifting piece of music. Our magic moment was influenced by some African school children singing in a documentary. We felt this energy coming from a choir, as this fell into place, we started making the music backward, starting with the section that is now the breakdown and "drop" before the final chorus. The inspiration for the lyrics came when we saw two girls coming out of a store into a pouring rain one of them took the other girl under her raincoat and they both had this timid smile on their faces. It was just such a cinematic moment, and we thought these kids deserve a song. Sharing a raincoat is such a powerful and cute image. And a great way to show someone you love them even if you're too shy to say it out loud…"
Homegrown all the way, virtual electro-pop group Studio Killers are an unlikely seed of pop magic, comprising architects of sound and vibrant animation. Formed in the UK, this European collective has always had a super fan base; seeing strong numbers across their other releases and social media channels. The band members are iconic fictional characters who have been capturing hearts with their infectious electronic music and visual delights since 2011; femme boss and frontwoman Cherry, keytarist Goldie Foxx and DJ Dyna Mink.
 
Their first single 'Ode to the Bouncer' knocked down the door and rode high in the European charts, before grabbing the no.1 airplay position in the Netherlands. Their first album was self-released globally on Studio Killers Records and rose to No.1 on the US and Canadian iTunes Dance Charts. Without major label backing, the album reached an impressive No.16 on the US Combined Album Chart. In 2020, Studio Killers' breakout single 'Jenny' found a second life thanks to the extraordinarily unpredictable world of TikTok and continued success in this creative platform.
 
Studio Killers excited for this new release are currently working on new music, and recently delivered a pilot funded by Kickstarter in 48 hours, unprecedented for a band, Studio Killers 404, which has also been signed to one of the largest animation production houses, Titmouse, to develop into a series and the band also have a Studio Killers game in the works.