International webinar organized by Department of Guru Nanak Sikh Studies, PU
Webinar was started with the introductory address by Dr. Sukhwinder Singh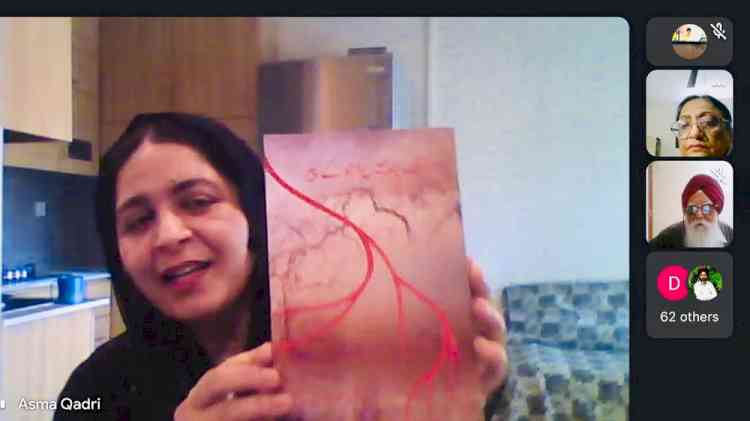 Chandigarh: Today, An International Webinar was organized by the Department of Guru Nanak Sikh Studies, Panjab University Chandigarh in collaboration with Panjab University Alumni Association on the occasions of its Golden Jubilee Celebration and also on the welcome-cum-introductory ceremony of students of 1st Semester of MA Comparative Study of Religion. 
Webinar was started with the introductory address by Dr. Sukhwinder Singh.
Dr. Jaspal Kaur Kaang, Professor & Academic Incharge of the Department welcomed all the speakers, guests and audience and also who have joined from overseas – Canada, UK, Pakistan etc. Dr. Jaspal Kaur Kaang gave a detailed account of achievements of the Department from its inception in 1970 till the present day 2020. Major achievements of the Department were editing of refereed research yearly journal Punjab Journal of Sikh Studies, shifting of Department in the new Guru Tegh Bahadur building and conducting of the new course of MA Comparative Study of Religion. Department has organized a number of seminars and other programs in Panjab University.
Inaugural address was given by Prof Jagbir Singh, Former Chairman, Department of Punjabi University of Delhi, Delhi & Member IIAS (Indian Institute of Advance Study of Simla) Simla. In his address, Prof. Singh laid stress on the need to initiate Religious Study as a subject to study in modern times for students. He gave a detailed analytical account of Indic and Semitic traditions. 
Dr. Asma Qadri from Punjab University Lahore, Pakistan gave an influential and emotional account of Guru Nanak Bani's message of love to all in a poetic manner. 
Guest of honor was Prof. Ronki Ram, Dean Arts & Shaheed Bhagat Singh Chair Professor Department of Political Science, PU, Chandigarh. He laid stress on redefining the true spirit of religion and rejected any other dogmas of religion.
In the presidential address, Prof. Chaman Lal Gupta, Vice-Persistent IIAS, Shimla said that Today's world is multidimensional, multicultural and multi traditional, no single religion can solve all the problems of human concerning; there is a urgent need of collective efforts of religion to solve the worldly problems. 
Many researchers, students and scholars participated in the webinar. The webinar was conducted by Dr. Sukhwinder Singh. In the end of Webinar, Dr. Praveen Kumar, Assistant Professor USOL expressed his gratitude towards the Teachers, Scholars and Students. The webinar went very well with more than hundred participants.