International conference on parwasi punjabi sahit concludes
About 70 technical sessions held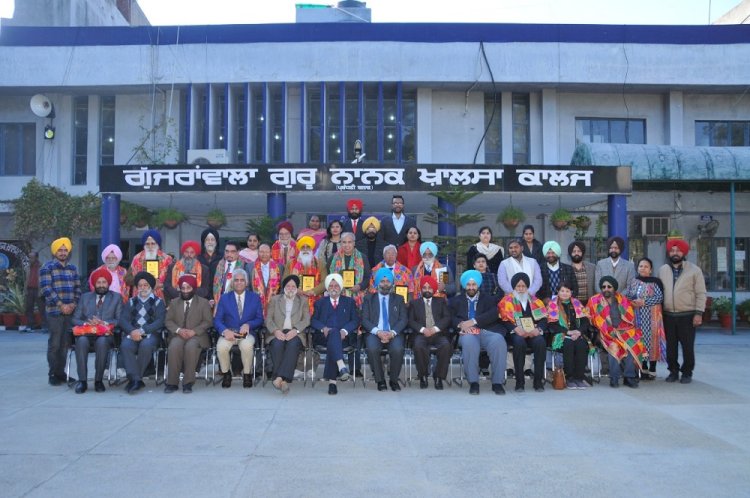 Ludhiana:  Two-day International Conference in Gujranwala Guru Nanak Khalsa College Parvasi Sahit Adhyan Kendar of Gujranwala Guru Nanak Khalsa College, Ludhiana was concluded on Friday.
On second day of International Conference, 'Parvasi Punjabi Sahit: in Contemporary Context', witnessed the research paper presentation in the technical sessions of Punjabi and English by eminent thinkers and research scholars from different universities. The total number of research papers presented were, around 70 in both Punjabi and English technical sessions. The biggest achievement of this conference is that the writings of those Parvasi writers who were not recognized till now were made a part to study and analyse, from various perspectives and contexts.
On the first day of the conference almost an equal number of research papers were presented during four technical sessions simultaneously. Dr Ravel Singh, Dr Gurpal Sandhu, S. Varyam Sandhu (story writer) and Prof Paramjit Ramana and Dr Tajinder Kaur had presided over the Punjabi and English technical sessions on both the days respectively.
During the conference, a few documentaries, based on Parvas were also exhibited in a form of competition in Gujranwala Guru Nanak Institute of Management which was judged by Dr Lakhwinder Singh Johal, S. Harjit Singh, former Director, Doordarshan, and Puneet Sehgal, Deputy Director. Afterwards, the valedictory session was conducted to honour the Parvasi writers who had come from far away nations to grace this conference with their illuminating intellect. 
S. Sardara Singh Johl, Chancellor, Central University of Punjab, Bathind, presided over the valedictory session.  Dr Lakhwinder Singh Johal, Secretary Punjab Kala Parishad, Chandigarh, Prof Gurbhajan Gill and Sri Sukhi Bath, founder, Punjab Bhawan, Surrey graced the event with their benign presence.
S. Satbinder Singh, President, Gujranwala Khalsa Educational Council, Dr. S.P. Singh, honourary General Secretary, (former Vice-Chancellor, Guru Nanak Dev University, Amritsar), and college Principal, Dr Arvinder Singh extended a warm and floral welcome to the guests of the valedictory session. Dr S.P. Singh, in his welcome address, stated that Parvasi Punjabi Sahit Adhyan Kendar in collaboration with Punjab Bhawan, Surrey (Canada), Punjabi Akadmi, Delhi, Indoz Punjabi Sahit Academy, Australia and Sahit Sur Sangam Sabha, Italy has been successful in organizing this two-day International Conference. He said that the purpose of this conference was to try to decipher the diverse concepts of Parvasi Punjabi literature in contemporary context.
Dr Arvinder Singh expressed heartfelt gratitude to all the Parvasi writers, who had come from far away nations, the dignitaries of the council, intellectuals, the entire teaching and non-teaching staff members and the students for their overwhelming participation in this conference and said that the success of this conference entirely relies upon the joint efforts of each and every person who were part of it. He further added that the main objective of this conference was to honour the Parvasi writers who had not yet been recognized and also to provide a common International platform to Parvasi writers to share their new and changing contemporary perspective. S. Sukhi Bath (Canada), Principal Sarvan Singh, Parminder Swach, Darshan Sangha, Inderjit Dhami, Kesar Singh Kunar, Bikkar Singh Khosa, Chamkaur Singh Sekhon, Charan Singh, Surjit Kaur, Nakshdeep Panjkoha (Canada), Sukhwinder Kamboj (America), Manjit Boparai, Pal Raonke, Meet Malkeet, Gurbachan Singh Jagpal (Australia) spared time from  their precious and busy schedule to be the part of this conference.
S. Kuljit Singh, S. Bhagwant Singh, S. Hardeep Singh, members of the council, Prof Manjit Singh Chhabra, Director, GGNIMT and GGNIVS, Dr Hardeep Singh, Principal, GGNIMT, Dr Bhupinder Singh, Dr Gurpreet Singh, Prof Sharanjit Kaur, Dr. Harpreet Singh Dua, Prof Harpreet Singh from Punjabi department and all the teachers from all the departments of the college were present during the conference.