International conference on Parvasi Punjabi Sahit in contemporary context from Jan 23
Event is being organized with support of various institutions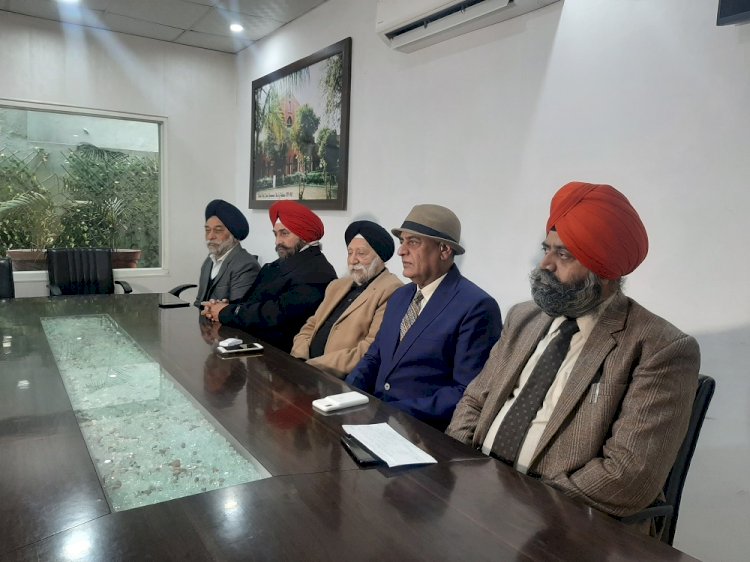 Ludhiana: A press conference was held in Gujranwala Guru Nanak Khalsa College, Civil Lines, Ludhiana, regarding upcoming third International Conference on 'Parvasi Punjabi Sahit: in Contemporary Context' which will be organized by Parvasi Sahit Adhyan Kendar of the college. Dr. S.P. Singh, honourary General Secretary (former Vice-Chancellor, Guru Nanak Dev University, Amritsar) told that this conference is being organized with the support of various institutions from all over the globe, i.e. Punjab Bhawan, Surrey (Canada), Punjabi Akadmi, Delhi, Indoz Punjabi Sahit Akadmi, Australia and Sahit Sur Sangam Sabha, Italy.
Dr. S.P. Singh said that Parvasi Sahit Adhyan Kendar of the college has been organizing National and International Conferences, Seminars, Discussions and book release events of Parvasi Punjabi writers since 2011 successfully. The main objective of the conferences which have been taking place for last two years is to study and analyse Parvasi Punjabi Sahit with earnestness. He announced that the college is committed to organize such kind of activities in the years to come.
He further told that during this conference two eminent personalities from the field of Parvasi Punjabi Sahit, Dr. Harchand Singh Bedi, first Parvasi Punjabi  thinker and critic, and S. Sukhwinder Kamboj, first Parvasi Punjabi Sahit writer  will be honoured and awarded with 51,000/- rupees.
Dr Arvinder Singh, college Principal told that the inaugural session will be presided by respected S. Sukhwinder Singh Randhawa, Cabinet Minister, Government of Punjab, S. Varinder Singh Walia, Editor-in-Chief, Punjabi Jagran, will deliver the inaugural speech and Dr Jaswinder Singh, Punjabi University, Patiala will be the keynote speaker. Dr. S.P. Singh said that organising such type of conferences will encourage and motivate the students for literary activities and also the study of literature.
Prof Gurbhajan Singh Gill, former President, Punjabi Sahit Akadmi, Ludhiana, while sharing his view on the upcoming conference, said that Parvasi Sahit Adhyan Kendar of this institution has done a great job of providing an appropriate platform for Punjabi literature written on both the lands of India and abroad whose objective is to spread awareness about the new challenges and possibilities faced by Punjabi language, literature and culture.
Dr. Bhupinder Singh, head of Punjabi Department of the college said that Parvasi Punjabi writers from abroad, Indian scholars, thinkers and students associated with Parvasi Punjabi Sahit will witness this conference with zest and zeal. He further added that it is wished that other Punjabi Parvasi writers and Parvasi Sahit institutions must get associated with the Parvasi Punjabi Sahit Adhyan Kendar of the college making it easier and more meaningful and successful to organize these type of conferences in future as well.
S. Satbinder Singh, President, Gujranwala Khalsa Educational Council, and worthy members of the council, S. Kuljit Singh, S. Bhagwant Singh, Prof Manjit Singh Chhabra, Director, S. Hardeep Singh, G.G.N.I.M.T. and G.G.N.I.V.S. and faculty members of Punjabi department, Dr. Gurpreet Singh, Prof Sharanjeet Kaur, Dr Harpreet Singh Dua, Prof Harpreet Singh and all the respected teachers from different departments of the college along with the students were part of this conference.