Internal security of country has strengthened further: Javadekar
Author(s): City Air NewsLudhiana, November 11, 2019: Union Minister Prakash Javadekar has said that internal security of the country has strengthened further and people's trust in the system has increased. The Union Minister being the...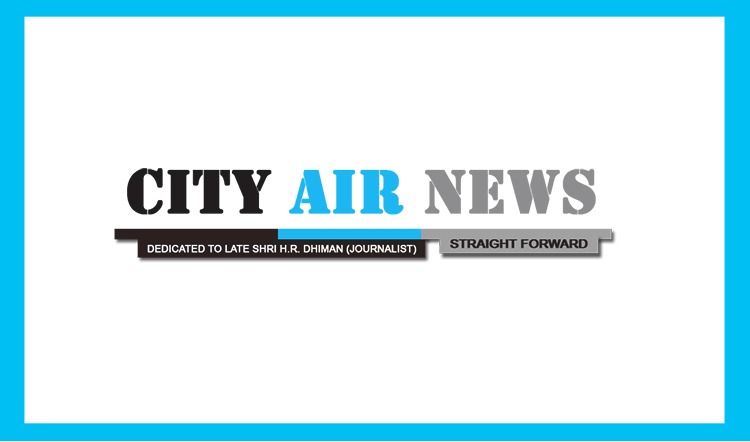 Ludhiana, November 11, 2019: Union Minister Prakash Javadekar has said that internal security of the country has strengthened further and people's trust in the system has increased.
The Union Minister being the chief guest was addressing a function organised here today by Nehru Sidhant Kender Trust. Javadekar added that people of the country have shown complete brotherhood and unity after abrogation of Article 370 in Jammu and Kashmir and court's verdict on Ram Temple. He also spoke about the opening of Kartarpur Sahib Corridor. He said all sections of the society have whole heartedly accepted all these decisions and nothing bad has happened. He added that terrorist activities have tremendously come down after abrogation of Article 370. He said all this showed that how much the Modi Government was determined towards the Nation and concerned for internal security of the country. On the other side, terrorist activities had been taking place frequently in various parts of the country before the Modi Government coming to the power, he added.
While appreciating the Modi Government, the Union Minister said that this government has been following one agenda "mission with vision without commission". This agenda of the government has become its identity, he said, adding that the Modi government has been providing corruption-free rule to people of the country. He added that the Modi government is also working a lot in the education sector too so that the youths could be prepared for 'New India". He said the government is emphasising on "new India" where there is no place for evils such as corruption.
The minister lauded Nehru Sidhant Kender Trust for its services being rendered in the field of education. He said progress of family, state and even country is possible through education.
Meanwhile, it is mentioned here that Nehru Sidhant Kender Trust (NSKT), founded in 1983 by Late Shri Sat Paul Mittal to propagate the ideologies of India's former Prime Minister Late Pandit Jawaharlal Nehru, today conferred the Sat Paul Mittal National Awards (2019). In the 'Individual' category SushilaBohra and Dr. B. Ramana Rao were jointly recognized while in 'Institutional' category the award was jointly shared by Student's Education and Cultural Movement of Ladakh (SECMOL) and Impulse NGO Network. Additionally, the Sat Paul Mittal Appreciation Awards for the year were also conferred on Dr. Ajit Sood and Dilasa Janvikas Pratishthan in the respective two categories.
The awards were given away by Prakash Javadekar, Minister of Environment, Forest and Climate Change and Minister of Information and Broadcasting and Rakesh Bharti Mittal, President, Nehru Sidhant Kender Trust at a function held at Nehru Sidhant Kender Trust, Ludhiana.
The winners were given a total cash prize of Rs. 12 Lacs along with citations.
The 'Sat Paul Mittal National Award' and 'Sat Paul Mittal Appreciation Award' are given every year for outstanding service to humanity. Every year NSKT invites nominations for honouring individuals and institutions working in areas including but not limited to health, education, environment, food, shelter, poverty alleviation, art, culture, child rights, welfare of the differently abled and women empowerment.
Prominent past recipients of the awards include Dr. E. Sreedharan, Dr. S.S. Badrinath, Smt. Ela R. Bhatt, Late Shri Sunil Dutt, Shri Anna Hazare, The AkshayaPatra Foundation, SOS Children's Villages & Swami Vivekananda Youth Movement, Navjyoti Delhi Police Foundation for Correction De-addiction & Rehabilitation among others.
Award Recipients Details:
 Individual Category (Joint Winners)
o Mrs. SushilaBohra
o Dr. B. Ramana Rao
 Institutional Category (Joint Winners)
o Student's Education and Cultural Movement of Ladakh (SECMOL)
o Impulse NGO Network
 Appreciation Award 2019
o Dr. Ajit Sood
o DilasaJanvikasPratishthan
About the Awardees:
Sat Paul Mittal National Award 2019 – Individual Category:
SushilaBohra
SushilaBohra, a renowned social worker from Jodhpur. For the past 42 years SmtSushila Bohra has dedicated her life towards the upliftment of Blind, Deaf & Dumb, Handicapped, Orphans& Women in distress from rural areas & weaker section of society. Her work has benefitted thousands of blind, deaf and mentally challenged students who have been successfully rehabilitated free of cost. Through her continuous work she has empowered more than 7000 women in Jodhpur to be self-employed. She is the founder Honorary Secretary of SAMBAL, Jodhpur, a social organization engaged in welfare and rehabilitation of widows & women in distress. Through SAMBAL's efforts pure drinking water is distributed to many villages of Rajasthan and also helped in spreading awareness about water management. Her social work has set an exemplary example for society and is also a recipient of several awards including National Award for commendable work for welfare of handicapped by Former President, Shri K.R.Narayanan& Mother Teresa Award in 2015.
Dr. B. Ramana Rao
Dr. B. Ramana Rao and is a Bengaluru based Physician and a Cardiologist, who has dedicated his life in service of rural people. Since the last 45 years he has been treating poorpatients free of cost in his village clinic at T Begur, 35 kms away from Bengaluru. Dr. B. RamanaRao has the unique distinction of treating over 2 million people and his yeoman's service has been running uninterrupted every Sunday and is the world's longest serving clinic providing free medical services. Dr. B. Ramana Rao also organizes free eye camps where 100 cataract surgeries areperformed every month for the poor. Dr. B. Ramana Rao has also made arrangements to provide clean drinking water in about 350 surrounding villages and also distributes free books, uniforms &shoes to about 50 village schools. Additionally, to improve sanitation and hygiene he constructed697 toilets in Begur & nearby villages. For his noble causes, Dr. B. Ramana Rao is a recipient of many awards from State Government & a Padma Shri awardee for Medicine from the President of India in 2010
Sat Paul Mittal Appreciation Award 2019 – Institution Category:
Student's Education and Cultural Movement of Ladakh (SECMOL
SECMOL was founded in 1988 by a group of young Ladakhis with the aim to reform the educational system of Ladakh. Through its various educational initiatives, SECMOL strives to equip young Ladakhis and others growing up in Ladakh, especially those from rural or disadvantaged backgrounds, with the knowledge, skills, perspective, and confidence to choose and build a sustainable future. The founder of SECMOL, Mr. Sonam Wangchuk, an engineer, innovator and an education reformist is known for designing the SECMOL campus that runs on solar energy and uses no fossil fuels for cooking, lighting or heating. He also invented and built a prototype of the 'Ice Stupa' - an artificial glacier that stores water in winters in the form of giant ice cones or stupas, and releases the water during late spring. SECMOL is the recipient of the 'International Terra Award for Best Building' at the 12th World Congress on Earthen Architecture in Lyon, France.
Impulse NGO Network
Established in 1987 Impulse NGO Network (INGON) started volunteering programmes in the social development sector working with poor and vulnerable groups on rural livelihood initiatives. In the early 2000s, given the absence of services for the protection of trafficked persons and a lack of effective victim-friendly procedures to prevent human trafficking implemented the 'Impulse Model' to successfully bring together the state government, security agencies, legal groups, media, and citizen organisations to combat the cross-border trafficking of children in the porous North-Eastern States of India. Till date, INGON has conducted more than 150 consultations on issues relating to human trafficking and cross border trafficking. In the last 22 years, INGON has assisted more than 72,442 human trafficking victims. In2013 a Public Interest Litigation (PIL) was filed by INGON against illegal method of coal mining. The National Green Tribunal officially passed an order banning coal mining and all the children rescued are in the process of receiving compensation and treatment. For their social services, INGON is a recipient of several National and International awards.
Sat Paul Mittal Appreciation Awards winners 2019:
Dr. Ajit Sood
Dr. Ajit Sood, Professor & Head Gastroenterology at Dayananad Medical College& Hospital, Ludhiana (DMC & H). The DMC & H is the biggest tertiary care centre in Punjab &is NABH accredited. He is a noted researcher and has over 150 National and International and National Journals to his credit. DrAjit Sood is a founder member of 'Colitis Crohns Foundation of India' which organizes biennial meetings. He is also founder member of CEVHAP (Coalition of Eradicate Viral Hepatitis in Asia Pacific. Dr. Ajit Sood's started the STEP-C project which comprise of Screening, Treatment, Education and Prevention to control/eliminate hepatitis in Ludhiana region and has also set up Digestive Diseases Care Foundation which has adopted 15 villages in Punjab for the eradication of Hepatitis C. Dr. Ajit Sood is a recipient of several National and International awards for his outstanding work.
DilasaJanvikasPratishthan
Dilasa is a Civil Society Organization working with the mission of rural development in areas such as micro irrigation, women development and livelihood enhancement. Over the years Dilasa has been actively working in Integrated Rural Development aimed at overall development of the village with the support of government agencies. Dilasa has implemented integrated rural development programme in partnership with SBI Foundation in 10 villages of Latur and Osmanabad districts. Apart from rural development programmes, Dilasa has established more than 125 FPO's (Farmer Producer Organisation) in Marathwada& 52 FPO's in Nasik Divison. It has implemented first aquifer management pilot project in the country and has also been working closely with farmers of the region and established a unique Chamber of Farmer Producer Organisation. It has supported the installation of drip system in 5000 hectares of land in Aurangabad district. Dilasa worked with NABARD and NABFINS for formation, promotion and market linkage of SHGs to support rural women to self-empowered and to attain economic self-sufficiency. Dilasa is a recipient of many National as well as International awards for its remarkable contribution to rural development.
Date:
Monday, November 11, 2019