Interactive knowledge session on foreign trade and exports
A.S Ranga, Commissioner of Customs, Ludhiana showed a presentation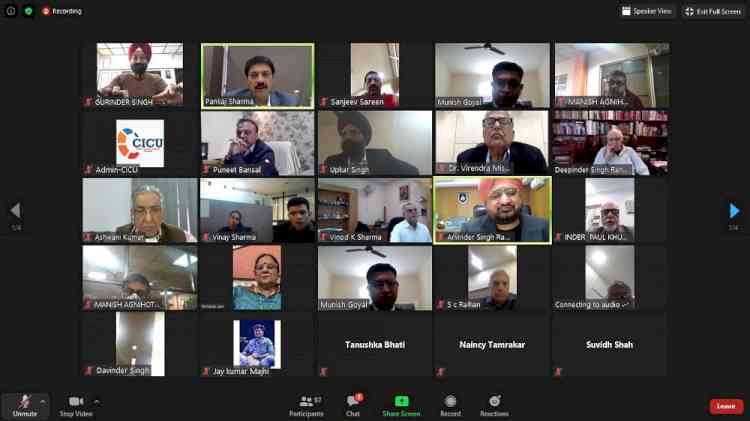 Ludhiana: Chamber of Commercial and Industrial Undertakings (CICU), Ludhiana organised an interactive knowledge session on foreign trade and exports. 
Speaking on the occasion, Upkar Singh Ahuja, President, CICU, Ludhiana said that industry is passing through a very crucial time, and it is very important to lay stress on our Foreign Trade & Exports. He also added that next opportunities will come for industry in future and it is good time for Indiana Economy to align those foreign policies and grow their business.
A.S Ranga, Commissioner of Customs, Ludhiana showed a presentation about the beneficial schemes like MEIS, SEIS, Export Incentives, Duty Exemption/Remission Schemes, Export Promotion Capital Goods Schemes. He also assured all type of help to Exporters.
Suvidh Shah, Joint Director General of Foreign Trade, Ludhiana explained the members about various Schemes of Directorate General of Foreign Trade under Ministry of Commerce and Industry Govt. of India and Opportunity in Business and Export. He also added that after Atamnirbhar Bharat scheme, Govt. focus on new scheme called Import Substitution.
Pankaj Sharma, General Secretary, CICU said that the schemes of the Govt. of India for Exporters, were well explained by Mr. A.S Ranga and Mr. Suvidh Shah. He also added that Exporters should get the benefit of these Schemes and grab the opportunities.
He also outlined various problems being faced by Exporters. He also requested to Custom to simplify process of Risky Exporters. He asked HDFC Bank officials to simplify process of documentation while providing loans to Businessmen.
Iqbal Singh Guliani, Zonal Head, HDFC Bank Ltd., jointly with his colleague Mr. Munish Goyal, Territory sales Head, RTFX, HDFC Ltd. shown a brief presentation about the facilities being given by the Bank to the Exporters. They added that Bank is providing totally digital banking platform to their foreign trade costumers and also offering a full gamut of International Trade & Forex Products.
Deepinder Singh Ranger, Deepak International, S.C. Ralhan, Past President, FIEO, Ashwani Kumar, Chairman, FIEO, Mirdual Jain, Shingora Textiles and other prominent Members of CICU were present in the meeting.