Inspired by sister Rajasthan hurdler strikes gold
Rajasthan also wins second gold medal on final day of athletics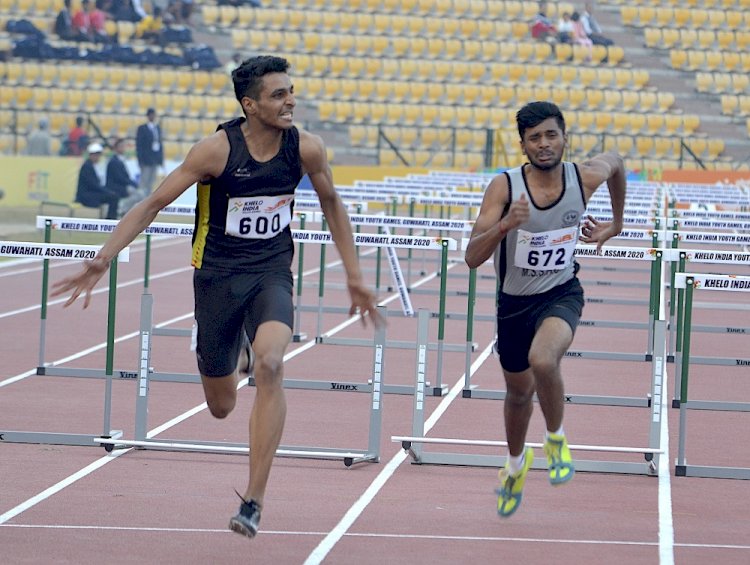 KIYG Madhavendra Singh Shekhawat.


Guwahati: Madhavendra Singh Shekhawat has his sister to thank for his success as a sprinter. Or even him becoming one in the first place. His sister, Priyanshi, elder by four years was the child prodigy who turned sprinter in school and even took part in the CBSE nationals for her state.
 
As a kid, right from the age of six, Madhavendra would follow her around and try and force his way to training. "I always wanted to do what she did and I pleaded with her school coaches to let me run with her," he said. Priyanshi was at an all girl's school, so this was never a possibility.
 
Not one to give up Madhavendra tried another tactic. "When the pleading didn't work he told the teachers he was willing to wear a skirt and run if that's what it took," he father Karan Singh laughed. "As if that would work!"
 
It is this never give up, try again attitude that was the reason for him shocking the Sarusajai Athetics arena, as he stormed for gold in the  U17 110m hurdles at the Khelo India Youth Games in a time of 14:44. In doing so he beat two more fancied former national medalists, Kamal and Mohit of Haryana into second and third respectively.
 
"Prior to this result I have always ended up getting knocked out in the heats," the St. Anselm's, jaipur student said. "At the big events, whether it is the School Games or the Junior Nationals, I've always choked," he said.
 
Every time that happened it was his father, a policeman and a former sprinter himself who would pacify him and tell him to keep trying. Now finally, the dividends are there for all to see.
 
While the sprinting itself was a family trait, the hurdles happened completely by accident. A torn gluteus medius ruined his 2016 season, and lying around he watched the Olympics and Jamaica's Omar Mcleod storm to gold in the hurdles.
 
"There was something about the event that was more captivating than just running ast," he said. "It was technical, it was more cerebral. As soon as I recovered I switched." He learnt the basics of the technique with coaches in school and took it upon himself to coach himself better. His present coach Lokendra Bachera draws up his workout routine, but the work is left to him alone.
 
For a state known for long distance runners, Madhavendra's victory is new. Karan Singh credits his son's work ethic and some good genes for this. "Obviously he comes from a family of sprinters, but the truth is he is a hard worker. He has been down and out so many times, but he gets his head up and gets back to training," he said.
 
Rajasthan also won a second gold medal on the final day of athletics here with Sonu Kumar, sealing top spot with a 15.75m attempt in the U21 triple jump. The 2016 Asian Junior bronze medallist was returning from an injury and did so in spectacular style with a record jump at the Games.