Innovative Film Academy's Innovative International film festival concludes with closing ceremony
The 4th edition film festival showcased 108 films from 30 countries in 33 languages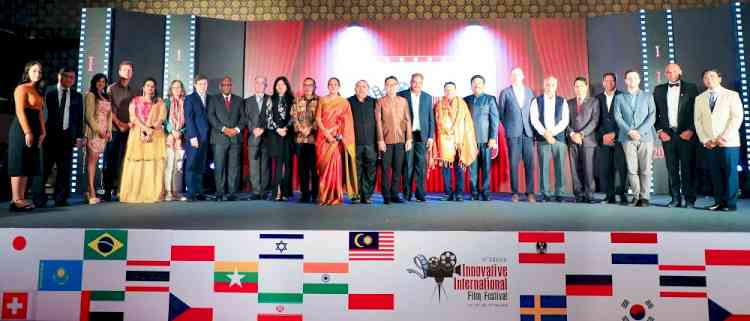 Bengaluru, October 19, 2021: Innovative Film Academy, one of India's most prestigious film studies institutes witnessed the conclusion of its 4th edition of the Innovative International Film Festival 2021, yesterday in the city. The four-day film festival presented 76 films from 30 nations, encompassing a wide spectrum of genres in 45 languages. Screened at the Innovative Multiplex, Marathalli, Bengaluru, the last day of the festival saw dignitaries from Austria, Thailand, Srilanka, Finland, Indonesia, Tanzania, Russia, France, Kazakhstan, Mexico, Myanmar, Rwanda, and Mali grace the occasion.
 
Partnering with the DadaSaheb Phalke MSK Trust, Innovative Film Academy recognized and honored films and artists for their exceptional contribution to world cinema. Popular Kannada actor Sri Raghavendra Rajkumar was conferred with a lifetime achievement award while Dollu was awarded the Best Kannada film. Israel's Asia won the award for the Best International film. Furthermore, Indonesia's film Habibie and Ainun and Srilanka's Ayu were declared the Best Asian film.  Karnan won the Best Indian film for directorial excellence. Thailand won the best entertainment film award for "Con Heartist'', a Thai film. Best documentary film award was presented to the Russian film "Dotoevsky Intercontinental".
 
Commenting on the conclusion of the film festival, Mr Saravana Prasad, Founder and Director of Innovative Film Academy in his keynote address said, "Innovative Film Academy was thrilled and honored to host the Innovative International Film Festival for the fourth consecutive time. This was an opportunity for the Indian film industry to gain exposure to international markets, boost tourism, and discover artists from other countries. We intended to show the best of international cinema from diverse nations. Cinephiles had a once-in-a-lifetime opportunity, and we hope to actively assist aspiring filmmakers to learn the subtleties of filmmaking."
 
Aside from screening films, the festival had a special Session and interaction of renowned film producer Mr. Allu Arvind with a group of directors, writers & students and close to 15 panel discussions to enable the youth to comprehend the craft of filmmaking from renowned speakers. Film producers Rockline Venkatesh and Dr. Ishari Ganesh also graced the occasion.
 
We are also glad to inform you that the festival was a great success. It saw participation from 30 countries, 76 film screenings in 26 different languages & 15 Networking Sessions over four days of engrossing activities & events – Opening & Closing Award ceremonies, networking lunches & gala dinners, from 14th to 17th October 2021. The festival witnessed the attendance of film personalities, association presidents & policy makers, Country Ambassadors, Consulate Generals, Cultural Directors, filmmakers - writers & Directors, Producers, Cinematographers, cinema critics & students.
 
There were Networking sessions to the advantage of the film fraternity which was present from various parts of India including – Tamil, Kannada, Telugu, Malayalam, Bhojpuri, Bengali, Marathi, industries. Sessions were organized by different countries, their film & television Commissions, tourism Boards, Film Funding Institutions, Line production agents to share the policies, procedures, rebates, incentives and shooting locations in their respective countries. The aim of the festival was to encourage global networking and create opportunities for co-productions and collaborations amongst Indian filmmakers and foreign countries.
 
Israel, Austria, Thailand, Indonesia, Malaysia, Brazil, Poland, Finland, Spain & Peru delegation gave valuable presentations and had intense interactions with the Indian film fraternity.