Innovative and latest technology attracts visitors at MachAuto Expo 2020
Technology from Japan, China, US and other countries displayed in expo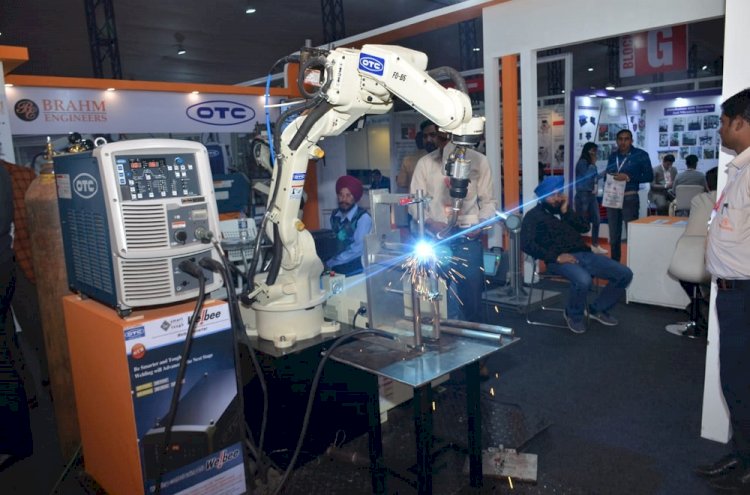 Ludhiana: Ninth editon of MachAuto Expo 2020, India's leading exhibition on Machine Tools and Automation Technology turns out to be a hub of Technology and Innovation Machinery. In four days Expo which started from February 21, top companies from the World are participating. The 575 exhibitors from India and 20 other countries are providing Low cost automation and Smart Manufacturing facilities.
The latest and innovative technology exhibited by Exhibitors from India, China, Taiwan, Japan, Switzerland, US and other countries attracted the visitors in Expo.
The exhibitors also presents demo, Live running machines to the visitor's. The latest laser cutting machines displayed by China, India and other countries was displayed in exhibition. The machines need no manpower and gives best results within few minutes. The exhibitors informed that only one person is required for loading and unloading plates and to operate computer screen on machines. After uploading the required drawing, the laser cutting machine produce the best quality. The benefit of machine is that no need of manpower and also generates best production.
Other than laser cutting machines, robotic welding machines and Portable welding machines were offered for live demo. The portable welding machines can be carried easily at any place. While using the robotic welding machines, there is no need of skilled worker. With six axis, robotic welding machines produce results with just one click on computer screen after uploading the design in computer attached with machine.
The compact hammering and heating machines were also the attraction among the visitors. Apart from witnessing the live demos of machines, the exhibitors also guide the visitors about the machines.
Partap Kumar, an industrialist from Delhi said that they are able to see, learn and adopt latest and innovation technology under one roof. "It becomes easy for them to verify, compare and adopt the latest machines in Expo", he added.
Managing Director of Udan Media and Communications GS Dhillon informed that machine tools, CNC Machines & SPMs, Hydraulic products, electrical/ Electronic equipment, Engineering Machinery and parts, Power tools, Welding and cutting Equipment's, Material handing Equipment's, Quality control Accessories, Hardening and heating Machines, industrial robots and many others were on display.
The Expo was supported by MSME and NSIC, Association of Ludhiana Machine Tool Industry, Auto Parts Manufactures Association (India) and other Associations. Expo will be concluded on February 24.

UNION AND STATE GOVT TO HELP INDUSTRALISTS IN ADOPTING NEW TECHNOLOGY- SHARANJIT DHILLON
MLA Sharanjit Singh Dhillon who visited the Expo on Saturday said that, the union Government and State government should help the industrialists to adopt latest technology so that they can compete in international market. In Expo, the next level machines were displayed which will help the industrialists in brining Industrial Revolution.
MLA Simarjit Singh Bains also visited Expo facilitated the organisers for providing platform to Industrialists to learn and adopt next technology. 
Vijay Sehgal, Territory Head of Bharat Gas said that they are motivating the industrialists to adopt LPG instead of using Coal, diesel and other fuels.
On the second day of Expo top industry leaders including Manjit Singh Khalsa, Gurpargat Singh Kahlon, Upkar Singh Ahuja, Charanjit Singh vishkarma, Gurmeet Singh Kular, Gurpreet Singh Kahlon besides several others visited the expo.