Innovation Mission Punjab ties up with Startup India to bring offerings for Incubators in Punjab
IMPunjab is set to leverage the Startup India Seed Fund Scheme platform for Incubators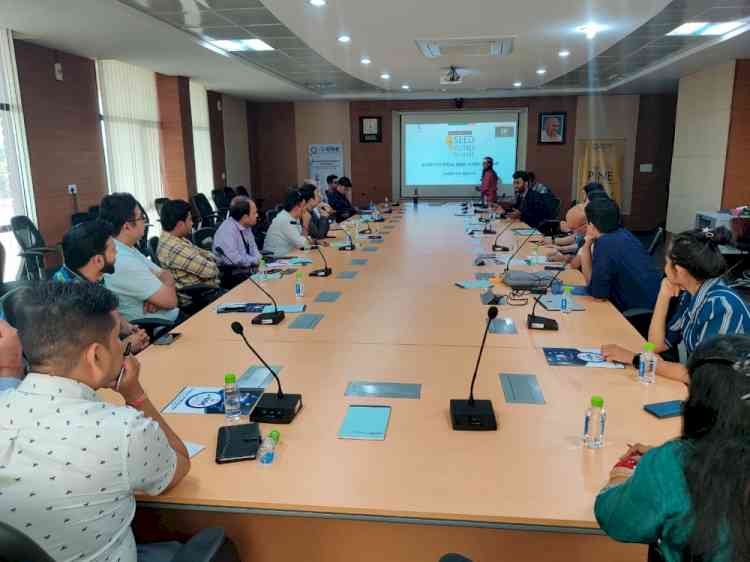 Mohali, May 23 , 2022: Innovation Mission Punjab (IMPunjab), an organization that aims to build, empower and act as a catalyst for local startup communities in Punjab, initiated its Startup India offerings for incubators, PINE (Punjab Incubators Network for Entrepreneurs), today at the Indian Institute of Science Education and Research (IISER), Mohali.
 
The PINE network meets monthly to guide technology and business incubators across Punjab to support their incubating startups better. This event focused on providing Incubators and the associated Startups with a deep dive into the Startup India Seed Fund Scheme (SISFS). DPIIT has created Startup India Seed Fund Scheme (SISFS) with an outlay of INR 945 Crore to provide financial assistance to startups for Proof of Concept, prototype development, product trials, market-entry, and commercialization. It will support an estimated 3,600 entrepreneurs through 300 incubators in the next 4 years. With this initiative, IMPunjab is helping incubators in the region on how to avail this grant for their startups. 
 
Incubator representatives such as CEOs, Managers, Program Coordinators, Nodal Officers, etc., attended the event with a few startups to learn firsthand how to apply for this scheme and interacted directly with Startup India officials to get assistance. Outside of this, the Starup India team also addressed other concerns and queries of incubators about different schemes being run by them. 
Talking about the event, Somveer Anand, CEO & Mission Director, IMPunjab, said, "Such sessions are instrumental in bringing together all the regional incubators and guiding them through various training sessions to help them support the startups. This event had Startup India seed fund share its offerings for Incubators to help startups scale. We will be hosting many such informational sessions in demand and the need of the hour."
 
The exclusive training session began with the welcome address and agenda-setting, followed by a brief on the Startup India Offering for Incubators. The detailed training session conducted by  Aditya Rathi - Seed Fund Specialist at Invest India, thoroughly engaged the audience with the valuable inputs shared across the stakeholders. It was followed by a Q&A round for the incubators, encouraging them to ask, understand and clear their queries. The event concluded with a Hi-Tea and Networking opportunity for the attendees.