Innocent Hearts Group of Institutions organised webinar on Strategies to Crack Corporate Interviews
The students were excited to ask volume of questions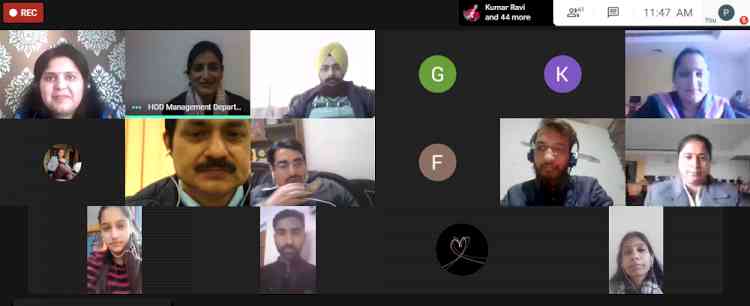 Jalandhar: With an objective to acquaint the campus students with the real time scenario of Corporate Job Interviews, Academic Department of Innocent Hearts Group of Institutions organized a webinar on "Strategies to Crack Corporate Interviews". The resource person for the webinar was a HR Interview expert Ms. Prerna Mahajan (Assistant Manager, HR, Bangalore based Fortune 500 Company). She holds more than ten years' experience in HR interview field for selecting candidates for MNC companies. 
The session started with a welcome speech of speaker for the session by Dr. Gagandeep Kaur (Academic Coordinator, Innocent Hearts Group of Institutions). 
During the webinar, Resource Person stated that interview is a criteria to examine candidate's knowledge, behaviour, experience and communication skills to meet the job requirement. Each Candidate must prepare with common interview questions and research about the company and position they are applying for. 
Ms. Prerna shared her experience of interviewing thousands of candidates and the questions which a candidate generally faces during job interview. She provided tips to the students about how to answer tricky questions and keeping balance during challenging questions. She also conducted mock session with a few students to boost their confidence. The students were excited to ask volume of questions. The speaker not only replied to their questions but also shared the psychology behind asking such questions. The most important segment of the session was query session. 
Dr.Shailesh Tripathi (Group Director, Innocent Hearts) presented a vote of thanks to HR expert Ms. Prerna Mahajan for sharing the most valuable and vital information with our students to crack the professional and corporate interview. He also stated that students should devote some time to know their personality traits and the company they are aspiring to join in future.