Initiative by GoI, Ministry of Jal Shakti awarded first prize to New Swan Enterprises 
In recognition of their commendable efforts in the area of water conservation/management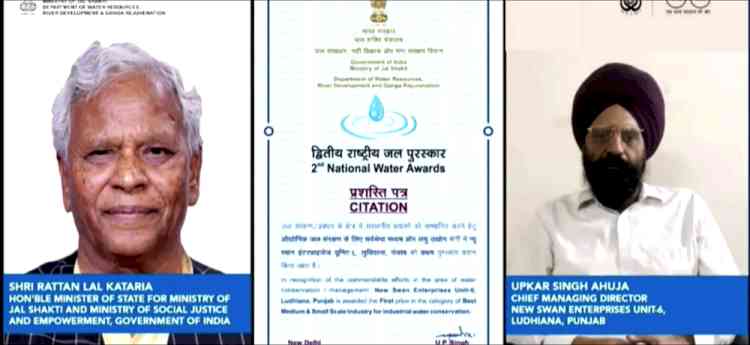 Ludhiana: An initiative by Government of India, Ministry of Jal Shakti awarded first prize to New Swan Enterprises in recognition of their commendable efforts in the area of water conservation/management.

2nd National Water Awards were organized by Ministry of Jal Shakti on 11th & 12th November 2020 to honour the excellence in Water Management and Conservation across the Nation.

Out of nearly 3800 nationwide participants New Swan Enterprises won this prestigious award in the category of Best Medium & Small Scale Industry for industrial water conservation. 

Upkar Singh Ahuja thanked Government of India, Ministry of Jal Shakti for awarding New Swan Enterprises with this prestigious award. He further stated that water conservation is need of the hour. India currently ranks 120 among 122 countries in water quality index. If we don't take corrective steps on water conservation today, there is a very possible chance that situation will turn in crisis.
 
He said we have adopted 3 R approach (Reduce, Reuse and Recycle) which helped us in reducing our dependency on ground water extraction. Introduction of ETP in our Group Plants has reduced over usage of fresh water to nearly 85%. Further to achieve our target we have installed Tricotect Plant to recycle passivation solution which helped us in saving  nearly 144000 Liter per annum and also worked on some micro domains of the plant. All in all with the above practices we are able to achieve good satisfactory results by saving 17817.6 KL of water per Annum which fulfil the needs of 356352 person for the whole year. Awareness sessions are regularly conducted for staff, workers, and local community people for spreading awareness on water conservation and promoting rainwater harvesting in society.

Pankaj Sharma, General Secretary, CICU and Management of CICU congratulate to Upkar Singh Ahuja, President CICU and CMD, New Swan Group for this achievement.