Industry suggested on need for technologies as well as curated projects for helping differently abled community using CSR  
Asim Arun, Minister Government of Uttar Pradesh advocates for public-private collaboration to drive nationwide development projects and successful implementation of CSR initiatives at CII NR Conference on CSR.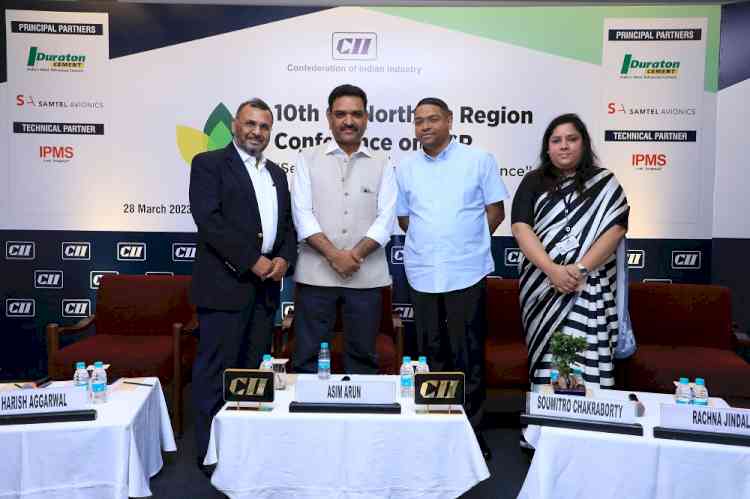 New Delhi, March 28, 2023: Addressing the inaugural session, Asim Arun, Minister, Department of Social Welfare, Government of Uttar Pradesh emphasized on the need for a long-term collaboration between corporations and the government, which can prove to be an immensely great initiative to solve the problem of availability of funds and scaling up of the nationwide projects towards a holistic social and economic growth model at the Tenth Edition of CII Northern Region Conference on CSR held on 28th March at India Habitat Centre, New Delhi.
 
Sharing the importance of CSR, the Hon'ble Minister mentioned that it is fundamentally necessary for corporations to focus on maintaining sustainability in accordance with maintaining profits which means to work in such a manner that business is conducted with minimal negative impact on environment. He added that there is also the need for an arrangement between the government and organisations to position CSR as a career opportunity and recruit young minds of the country who can be trained effectively to solve problems towards development of the nation.
 
He further complimented CII for making efforts towards promoting affirmative action for providing employment opportunities to each sector of the society.
 
Harish Aggarwal, Chairman, CII NR Regional Committee on CSR & AA and Managing Director, Asian Concreates & Cements Pvt Ltd, stated the importance of ensuring transparency and accountability to establish a robust CSR model. He highlighted that there is need for the government to curate projects and invite industry to partner in it instead of contributing financially. He also mentioned that the governments should list the projects on a portal for industry to select and participate in it.
 
Reena Gupta, Advisor, Government of NCT of Delhi shared as to how the Government of Delhi has effectively used CSR fundings to help citizens during outbreak of Covid 19 and post it. She shared that the government has created projects towards the social development towards making Delhi a better, liveable place. She further invited the industry for the innovation and research to create an application which can be utilised to travel across all public transports. She concluded that in today's time, we require industry not only to contribute its mandated profits but also participate and contribute with technologies for effective administration.
 
Dr Soumitro Chakraborty, Co-Chairman - CII NR Regional Committee on CSR & AA and CEO Innovative Project Management Services Pvt Ltd, highlighted the fact that a mandate can create compulsion but governing it while ensuring adequate implementation is the most important part which determines the success of CSR. He stated that, since problems are existent, the government can only create regulations while the private sector that can bring in more expertise. He also mentioned that India can combine Startups and CSR which will eventually help in providing innovative solutions to problems existent in the country.
 
CII has been working with industry much before the introduction of the CSR law envisaging a National Movement for Mainstreaming CSR for Sustained Inclusiveness and helping corporate to understand CSR for the better positing of their brand value. The conference was organized to highlight the importance of setting the right CSR goals with the implementation of syncing synergies between the government, corporates, and the citizens of the country. During the conference, industry also deliberated on the need for technologies as well as curated projects for helping differently abled community.
 
Post the inaugural session, insightful discussions on Innovation, Inclusion, and Collaboration for efficient development of technology were conducted with the industry leaders. Thus, the event turned out to be a great success.
 
The event was attended by CSR heads and leaders of Large Corporates including Tech Mahindra, Hero MotoCorp, J&K Cement, Jubliant, UNO Minda, TCS, Jindal Stainless Teel and NGO foundations.