INDUSTRY PASSING THROUGH CRUCIAL SITUATION DUE TO LOCKDOWN: CICU
SAYS MOST OF INDUSTRY AND COMMERCIAL UNDERTAKINGS WAITING TO OPEN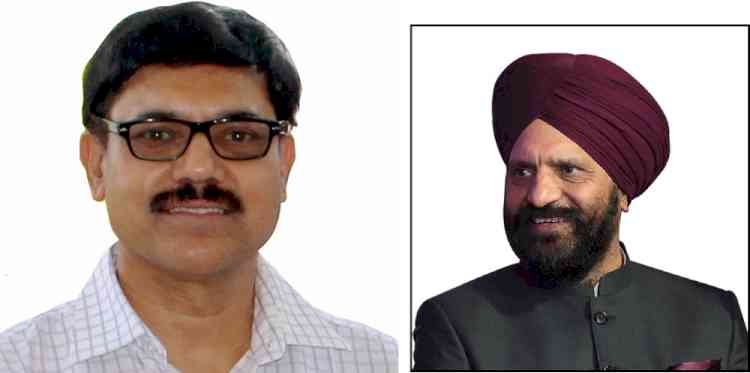 R-L: Upkar Singh Ahuja, President and Pankaj Sharma, General Secretary, CICU, Ludhiana.
Ludhiana: Upkar Singh Ahuja, President and Pankaj Sharma, General Secretary, Chamber of Industrial and Commercial Undertakings (CICU), Ludhiana in a joint statement said that industry is passing through crucial situation due to lockdown, since more than a month most of the industry and commercial undertakings are waiting to open. Situation with Covid-19 is also not satisfactory to balance health and economy. CICU suggest some following points:
•    Minimum 70% industry must be allowed in one go on all india basis, also open warehouses, industrial supplies otherwise production cannot start for shortage of Raw material, consumables and components.
•    Industry in mix land area and Industrial approval areas to be considered at Par.
•    Sales outlets should also be opened keeping social distancing.
•    Staff and workers allowed to attend the premises at their own Social distances to be followed, Govt. should allow workers to come by any mode, i.e. by foot or by two wheelers. Pillion Riding may be disallowed to prevent contact.
•    Industry and Business premises have to maintain social-distance, Temperature checking, Sanitization as per norms etc.
•    No harsh action against the industry owners, if employee found effected with Crona virus.
•    Industry follow S.O.P need not to get approval from any department, otherwise it will be a mess up, no department can give approval to huge number of Business to a undertakings.
•    Transport and Highways to be fully operational for smooth transportation of goods.
•    Electricity authority should charge only price of energy consumed for next six months no other charges like average or fixed charges.
•    Business premises in sensitive area can be considered in second phase.
•    MHA and state Govt. should release guidelines accordingly.
•    As lot of enterprises are facing financial crunch so deposit of GST should be exempted for at least six months. On the other hand, refund of VAT& GST should be expedite which will provide relief to business men.
The CICU leaders said that the above suggestions will help the industry to restart, although it will take long time for the economy back on track but it will help engaging the labour to certain extend, restating will be also in phased manner, starting for 20 percent and gradually increasing.
They added CICU has submitted memorandum to Amit Shah, Union Home Minister, and Capt Amrinder Singh, Chief Minister, Punjab to help the industry business to restart as per suggestion given.