Industry organizations protest against state government in Cycle Market 
Give warning to PSPCL and Punjab Government stating they won't stop their industries if some extension in cuts announced by the government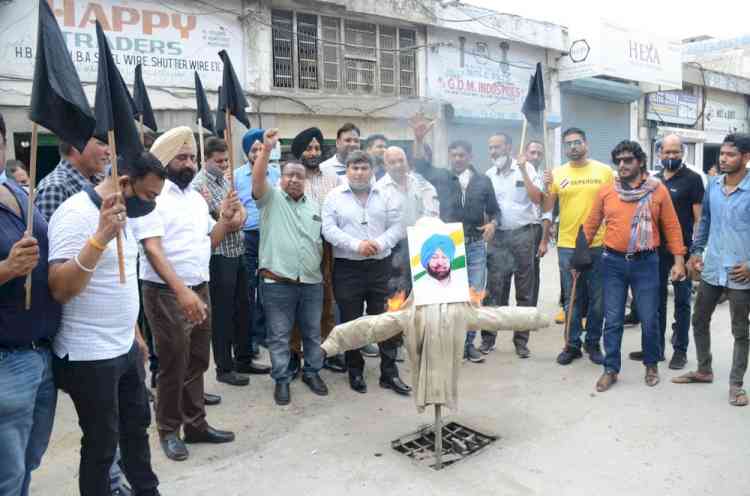 Ludhiana: In view of present power crises caused due to the failure of state government the industry organizations protested against the government in Cycle Market Ludhiana today. 
Addressing the protestors, the industrial leaders said since last 10 days the Large Scale  industries are forced to close down their units by the PSPCL. This is longest ever lock down for industries due to power in the history of Punjab. 
The industry strongly opposed the Chief Minister & Power Minister Captain Amrinder Singh for the failure of providing power to the industries which resulted into the production loss of more than 20000 crores in state. 
The industries burn the effigies of the state government due to the present circumstances of industries, 
The industries produces more than 40000 tons of steel in state daily, this crises affected that production of 4 lakh tons of steel in state and also impacted the production of yarn in equal monitory value. 
This blackout of power directly affected 10000 industries and 2 lakh industries indirectly in the state. The 35 lakh workers working in these industries were forced to sit at homes. 
The whole circumstances caused due to the mismanagement of PSPCL as the own thermal plants were shut down on the name of surplus power in the state.  
The power is available in many states but the PSPCL is failed to buy the power due to its worst financial position which is due to the nonpayment of subsidies by the state government to PSPCL. 
Due to COVID the industries were already in crises and these cuts deepened their troubles. The exports of more than 1000 crore are in risk due to the cancellation of orders. 
The MNC's are boycotting the industries of Punjab as the due to the delay in supplies of orders from Punjab Industries sometime due to power crises of farm protests. The auto companies started their productions on 1 July and industry was having huge orders from these companies but most of the orders were cancelled to the delay in supply. 
Speakers said on moral grounds Capt Amrinder Singh must step out from the Ministry of Power due to blunder failure
They warned the government that they won't stop their industries if some extension in cuts announced by the government. "We will start our industries and government will be responsible for fire out of their grids", they added.  
Further, they said, "We will contest against any penalties imposed by the government in court as to get power is the right of Industries", adding, "In case of any extension in cuts we will arrange meetings of industrial organizations of state and will protest outside the CM house."
Those who spoke on the occasion included Badish Jindal and Narinder Bhamra.