INDUSTRY FEARS MASSIVE FINANCIAL CRISIS POST LOCKDOWN
CICU LUDHIANA ORGANIZED WEBINAR/ZOOM MEETING FOR LUDHIANA MEMBERS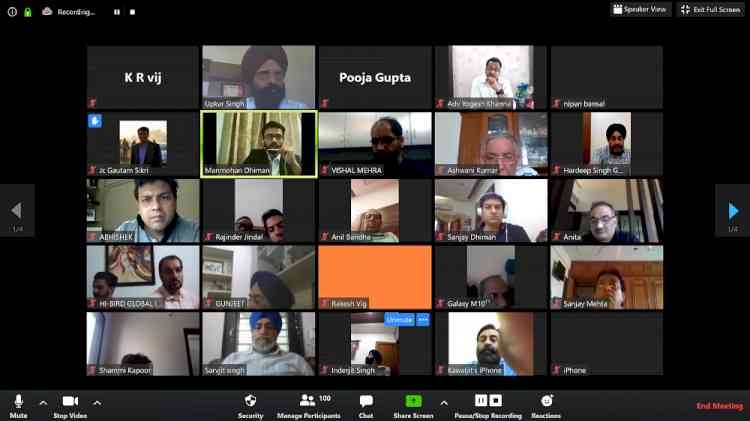 Ludhiana: Chamber of Industrial and Commercial Undertakings (CICU) Ludhiana organized a webinar/zoom meeting for Ludhiana Members chaired by Upkar Singh Ahuja, President, Pankaj Sharma, General Secretary, CICU on the burning topics of the industry pertaining to Maintaining Financial Solvency, Managing Finance Cost & Cost Cutting, Managing Forex Exposures during the Covid 19 scenario. Also, discussed were the recent changes introduced in GST by CBEC & the recent extension in Foreign Trade Policy.
CA. Nipan Bansal and CA. Manmohan Dhiman, Partners with M/s Parshotam & Associates, Chartered Accountants were the speakers for the technical Session. 
The session was attended by 175 industrialists and members of the Association.
CA. Nipan Bansal deliberated on the current steps taken by the RBI & GOI to infuse liquidity into the system. The speaker explained the current changes in policy rates including repo and reverse repo rate and their impact on the financial position of banks, pass on of benefits to industry by banks as also how to take benefits of the increased liquidity in the system. He also discussed the techniques including options to manage forex losses. Later on CA.Manmohan Dhiman briefly explained the extension of timelines by CBEC under GST Regime as also how to avail benefits under Foreign Trade Policy
Both the speakers answered the queries of the participants in the later part of the presentation. The session was concluded with the vote of thanks by Upkar Singh Ahuja and Saravjit Singh on behalf of CICU.