Industrial units get benefited from industrial and business development policy-2017 
The policy has multiple benefits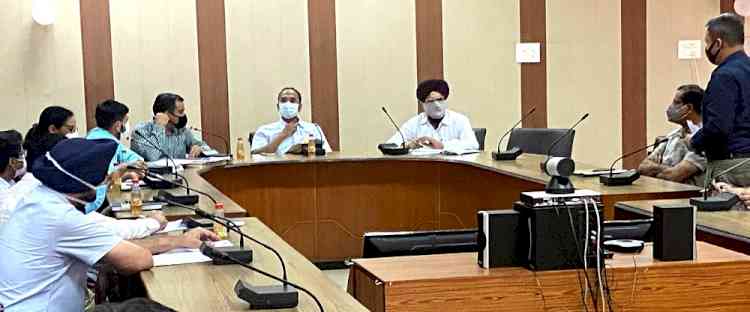 A meeting of district level committee being held at Bachat Bhawan, Ludhiana under the Chairmanship of Deputy Commissioner, to consider cases for giving various benefits.
Ludhiana: A meeting of district level committee, was held at Bachat Bhawan under the Chairmanship of Deputy Commissioner, Ludhiana to consider cases for giving benefits like Electricity Duty, CLU/EDC and Stamp Duty Exemption to the Industrial units.
 
While giving details, Deputy Commissioner Ludhiana Varinder Kumar Sharma, informed that one of the major achievements of this policy were the simplified approval procedure of MSME's. Now all the new and expansion/modernization projects can apply on Business First Portal and get all regulatory and Fiscal incentives online in a time-bound manner. State Govt. has recently notified an amendment whereby all projects up to Rs. 10 crores investments in plant and machinery are approved at District Level Committee, which is headed by Deputy Commissioners of the districts.
 
Giving details, Rakesh Kumar Kansal GM, DIC Ludhiana and Maninder Singh Project Manager informed that in today's meeting 7 cases were put up before District Level Committee out of which 6 cases were approved and one case kept pending for some clarification. In case of M/S Ludhiana Milk Foods Private Limited benefit of 100% Exemption from EDC charges amounting Rs. 19.49 Lakh was approved.
 
In another case of M/S  R K Cold Store and Warehouse Malerkotla Road, Vill Kaind Ludhiana benefit of 100% Exemption from EDC charges amounting Rs. 36.27 Lakh was approved. In case of M/s Alwar Alloys, Neecha Bhadla, Boothgarh Road Ludhiana 100 % exemption from Electricity Duty for seven year was approved by the committee and in case of M/s Lakshmi Steel Rolling Mills, Village Allour, Badinpur Road, Khanna committee approve the case for electricity duty exemption amounting to Rs. 140.87 Lakhs. Two cases namely M/s Garg International Village Dugri, Hadbast No. 220, Tehsil Payal, Ludhiana & M/s Paos Productions, Village Pawa, G.T. Road, Ludhiana got their FCI & date of production approved in meeting.
 
Upkar Singh Ahuja, President CICU was present as representative from the Industry along with all other officials from various Departments as designated members of District Level Committee, He requested the industry to take maximum benefit of this policy.
 
Deputy Commissioner Varinder Kumar Sharma informed that this will surely boost the morale of the industry and more and more industries will come forward to get the benefits of this scheme. The policy has multiple benefits as beside huge fiscal benefits the monitoring of applications are done by the highest authorities of the departments for the various clearances to be given on time.