Indian traditions worked in Corona
India may not become a world power, but it can become a world guru: Mohan Bhagwat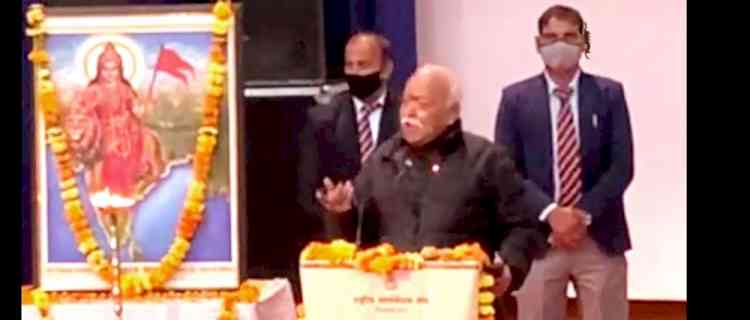 Dharamsala, December 18, 2021: RSS chief Mohan Bhagwat observed a minute's silence in the memory of CDS Vipin Rawat and fellow soldier's martyrs in the seminar of ex-servicemen in the auditorium of Dharamsala College. The RSS chief was addressing an ex-servicemen meet in Dharamsala on Saturday.
He said that "no matter what the situation is, the Indian soldier fights with valor." He said that the enemy has come many times from thousands of miles away, so many times  enslaved us because we kept losing every time on our own land. They succeeded because we were divided among ourselves.
Ambedkar had said, we were never defeated by anyone's strength but by our own weakness as we were not united.
He said to live for yourself, not for selfishness. Hindutva always preaches humanity. We believe in the concept of 'Vasudhaiv Katumbakam'. We Indians have had a common DNA for the past 40000 years.
The RSS Chief said that "the media refers to us as the remote control of the government which is not so. Though, some of our workers are definitely part of the Government. The swayam sevaks have no assurance of any kind from the Government. People do ask us, what will we get? My answer to them is that you may lose even what you own".
Corona has shocked the whole world as the world understood that it has surely made some mistake. Ultimately, what got us through was our traditional Indian remedies and followings like Kadha, Kwath and Cleanliness' etc.
Now the world looks at India like an Idol and wants us to create a model. India may not become a world power, but it can become a world guru.
It was told that 601 ex-servicemen from 4 districts of Himachal participated in this audience, with RSS Chief Bhagwat, in Dharamsala.
RSS Chief who is on a 5 days tour to Kangra district is likely to meet the  The Dalai lama too before leaving Himachal, sources said.