Indian Railways takes major strides in electrification: Set to achieve 91% electrification by end of 2023
The electrification of the Indian railway network has reached its peak, with an impressive target of achieving 91% electrification by the end of this year.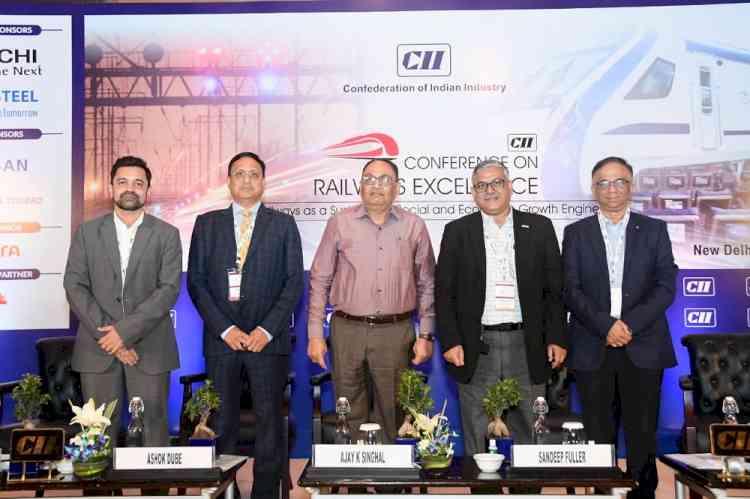 Speakers at the conference.


New Delhi, May 19, 2023: The electrification of the Indian railway network has reached its peak, with an impressive target of achieving 91% electrification by the end of this year. This significant announcement was made by Mukul Saran Mathur, Principal Executive Director – Infrastructure, Ministry of Railways, Government of India, during the Conference on Railway Excellence organised by the Confederation of Indian Industry (CII) Northern Region today in New Delhi. Mr Mathur highlighted that the Indian Railway has gained global recognition and emphasised the crucial role it plays in driving economic and social growth through the seamless movement of consignments. He also stressed the importance of capacity and capabilities building with technology innovation, asserting that India is rapidly becoming a manufacturing hub for rolling stock.
 
Addressing the conference, Sudhanshu Sinha, Advisor- Infrastructure Connectivity & Electric Mobility, NITI Aayog, Government of India, emphasised the significance of public-private partnerships (PPP) in railway projects. He highlighted the need to make railway projects more attractive to private investors, bridging the viability gap through sections of investors. Mr Sinha predicted that India's railways would become one of the most important sectors driving the country's overall growth. He further emphasised the paramount importance of a holistic approach and excellence in the railway sector.
 
During his welcome remarks, Mangal Dev, Conference Chairman & Head, Hitachi Rail Systems and Director, Hitachi India Pvt Ltd, mentioned that modernisation, safety and security have been the salient features of the Indian railway Development. He highlighted the railway's commitment to embracing digitalisation in all operational areas, with a focus on improving revenue streams and enhancing the passenger experience. Mr Dev further outlined the railway's commitment to adopting an integrated approach for a greener environment, with the goal of becoming a net-zero carbon emitter by 2030.
 
Speaking at the inaugural session, Sandeep Fuller, Conference Co-Chairman and Business Head, Systra MVA India Ltd, highlighted the transformation of Indian railways into a modern system, equipped with enhanced responsibilities and improved comfort. He emphasised that railways remain one of the prime and priority sectors for the Government of India and suggested that leveraging technology would be instrumental in achieving more efficient management in the railway sector.
 
Sthaladipti Saha, Senior Vice President, Larsen & Toubro, shared his insights during his address, stating that the railway sector is currently at the cusp of a technology transformation and innovation. He praised the proactive promotion and implementation of digitisation in various verticals within the railway industry. Mr Saha stressed the importance of identifying and addressing challenges comprehensively in every aspect of railway operations.
 
Sergey Medvedev, Head of Business Development, JSC Metrowagonmash (TMH Group), highlighted his organisation's expertise in the development, design, and manufacturing of rolling stock for metro systems and railways. He disclosed that Indian Railways has placed an order for the manufacture of 120 Vande Bharat trains with sleeper coaches, further cementing the partnership between India and Russia.
 
The Conference on Railway Excellence brought together policymakers, industry captains, and subject experts from prominent organisations such as Railway Board, Wabtec, IRSDCL, Titagarh Wagon, GATXD, Rail Vikas Nigam Ltd, Tata Steel, and Reliance Industries, among others. The conference served as a platform for engaging discussions on creativity, innovative solutions, excellence, and expertise for the betterment of the railway sector in India.