India has been very kind and its people have been very generous to the Tibetan people: Dr sangay
A brief commemoration ceremony was held at the Tibetan  Secretariat in Dharamshala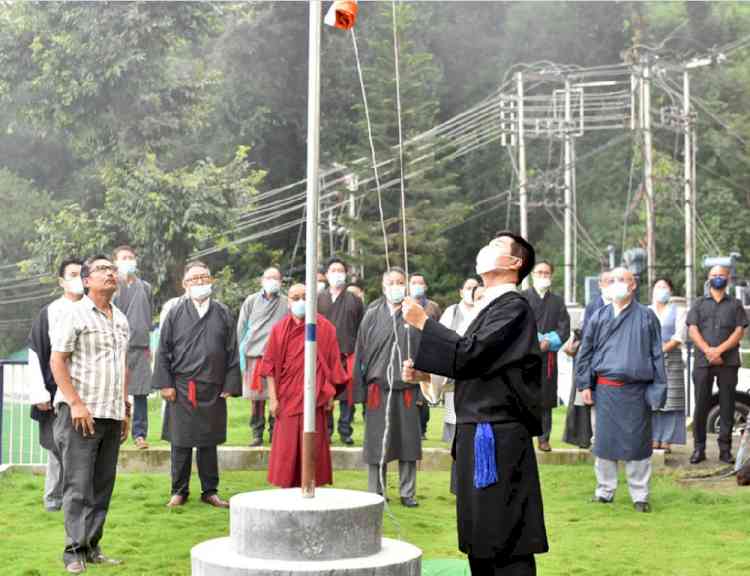 Dharamshala: The Central Tibetan Administration under the leadership of Dr Lobsang Sangay congratulated India on its 74th Independence day.

A brief commemoration ceremony was held at the Tibetan  Secretariat in Dharamshala north India on Saturday in the presence of President CTA Dr. Lobsang Sangay, Tibetan Ministers , Secretaries, and senior officials of CTA departments.

The atmosphere charged up with patriotic spirit as the tricolour national flag was unfurled by Dr. Sangay followed by the singing of India's national anthem.

"On this joyous occasion, I would like to congratulate India and the people of India for its achievements and progress in socio-economic development," said Dr Sangay.

He added, "India has been very kind and its people have been very generous to the Tibetan people and the Tibetan cause for which we are eternally grateful".

Addressing the recent border conflict at Galwan Valley, Dr. Sangay once again urged India to recognise Tibet as the buffer zone of peace between India and China for a lasting solution to border conflicts.

He appealed to the government of India to take Tibet's history with China as a guideline when dealing with the PLA.

"As India succeeded in its independence movement, our own vision, and policy of the middle way approach will be succeeded where we will have genuine autonomy for the Tibetan people in India. That is our wish and that has been the vision of His Holiness the Dalai Lama" said the President.

Following the brief celebration at in Tibetan secretariat , CTA President Dr Lobsang Sangay attended the celebration of India's 74th Independence Day at the police ground in Dharamshala  where Shri Vipin Singh Parmar, Speaker of Vidhan Sabha, H.P presided over the district level function.
Photo courtesy CTA; The unfurling of the tricolour national flag of India by CTA President Dr Lobsang Sangay on the occasion of India's 74th Independence