India, Canada agree to enhance cooperation for investment promotion, info exchange
India and Canada have agreed to enhance cooperation for coordinated investment promotion and information exchange.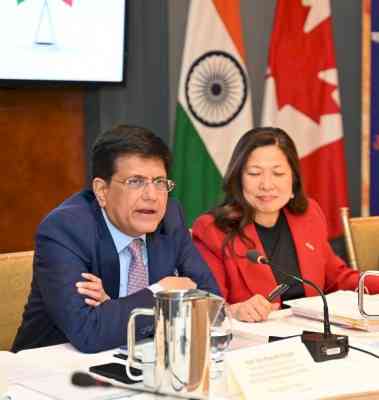 Source: IANS


New Delhi, May 10 (IANS) India and Canada have agreed to enhance cooperation for coordinated investment promotion and information exchange.
This was finalised after both the countries concluded the 6th India-Canada Ministerial Dialogue on Trade and Investment in Ottawa on Monday.
Union Commerce minister Piyush Goyal and Canadian Minister for International Trade Mary Ng concluded the negotiations for their respective countries.
Ng announced that she would lead a Canadian trade mission to India in October.
This will present an opportunity to further the trade and investment ties between the two countries as she is likely to bring a big business delegation for the same.
India-Canada bilateral trade in goods reached about $8.2 billion in 2022, registering about 25 per cent growth compared to 2021.
The two ministers also underlined the contribution of the services sector in furthering the bilateral relationship and noted the significant potential for increasing bilateral services trade which stood at about $6.6 billion in 2022.
They emphasised on enhancing cooperation in sectors such as clean technologies for infrastructure development, critical minerals, electric vehicles and batteries, renewable energy and hydrogen, as well as Artificial Intelligence.
Both the ministers asked their officials to discuss trade remedies issues of bilateral importance on a regular basis.
The two sides agreed to explore enhanced cooperation through measures such as coordinated investment promotion, information exchange and mutual support between the two parties in near future through a memorandum of understanding (MoU) preferably in Fall of 2023.
The Ministers agreed on the importance of G2G coordination to promote critical mineral supply chain resiliency and committed to an annual dialogue at the official level on the margins of the Prospectors and Developers Association Conference (PDAC) in Toronto, to discuss issues of mutual interest.
They also agreed to rework and relaunch the Canada-India CEO Forum with renewed focus and a new set of priorities.
The CEO Forum could be announced at a mutually-agreed early date.
It would be a platform to enhance B2B engagement.
The ministers noted the significant movement of professionals and skilled workers, students, and business travellers between the two countries, and its immense contribution to enhancing the bilateral economic partnership.
In this context, they noted the desire for enhanced discussions in the area of migration and mobility.