Increase in prices of diesel, petrol and gas and rising unemployment pushing people into hunger 
Left parties hold protest demonstration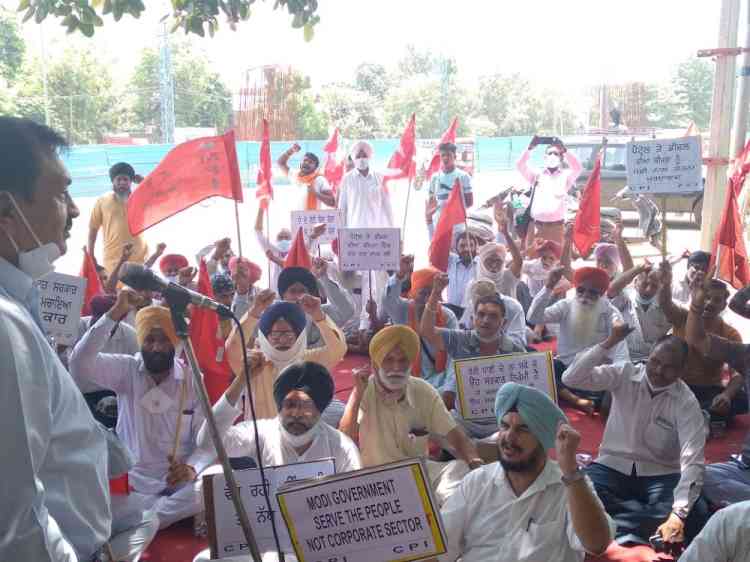 Ludhiana: The Left parties including the Communist party of India (CPI), RMPI and CPI (ML - Liberation) held a demonstration today against the price rise of diesel petrol and gas. This has come as a bolt from the blue after the farm laws which are bound to increase the price of essential food items for the consumers. 
Speakers addressing the demonstrations said that nowhere in the world the price of petrol and diesel and gas is so high as in our country at present. Even when the price of crude oil in the international market fell the price of petrol and diesel and gas did not come down in accordance with that in India. Even our neighbouring countries are selling these items at much lower rate than ours. Many countries in the world whose per capita income is much higher than us are selling it at much cheaper rate. This is bound to increase the freight and then the cost of all the items.
They said already an additional number of 23 crore people has been pushed below poverty line and 3.2 crore people have been ousted from the middle class. Whereas the ordinary citizen is paying exorbitant amount as indirect tax, the corporate tax has been reduced from 30% to 22%. Out of the total tax collection last year 9.45 lakh crores has come from direct tax while 11.37 lakh crores is from indirect tax. Common man has paid 5.70 lakh crores as tax on fuel mostly by the two wheelers which are owned by lower income group. Adding to the misery is the writing off the corporate loans to the amount of 6.96 lakh crores since 2017-18. Even during the pandemic last year when country needed huge amount to tackle the disease 1.53 lakh crore was written off.  
The rally was held at near the BSNL following which demonstration was taken via Bharat Nagar Chowk to the Mini Secretariat. Those who addressed include Comrades D P Maur, Prof. Jaipal, M S Bhatia, Dr Gurcharan Singh Baring, Jagdish Chand, Chamkaur Singh, Raghbir Singh Benipal.