In wake of inclement weather conditions, DC directs procurement agencies to further expedite lifting of wheat
8.83 Lakh metric ton wheat purchased, more than 74 % of procured wheat lifted and payment worth Rs 1626.18 crore has been made to the farmers so far in district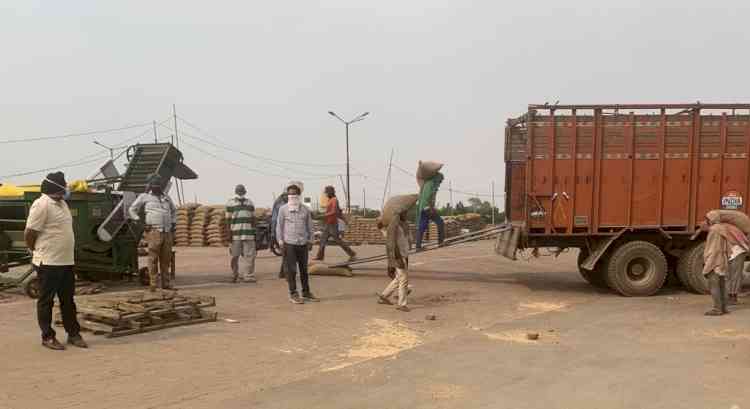 Ludhiana: In wake of the inclement weather conditions, the Deputy Commissioner Varinder Kumar Sharma has directed all the procurement agencies to further expedite the lifting of wheat from the grain markets/purchase centers besides taking necessary steps to ensure that not even a single procured grain was damaged.
Giving immediate orders, Deputy Commissioner expressed concern over the erratic weather conditions prevailing in the district. He said that though more than 74 % of the grains have been lifted in the lifted but efforts must be made to lift the remaining grains from the market more swiftly. 
Sharma said that concerted efforts must also be made to store the procured grains at a safe place in the grain markets/purchase centers, so that no damage was caused to it.
The Deputy Commissioner said that it was the bounden duty of all the officers to preserve the procured food grains aptly as it was now a 'national treasure'. 
He asked the officers to visit the grain markets/purchase centers and ensure that elaborate arrangements were put in place to protect the grains from the wrath of the bad weather. 
Meanwhile, Sharma said that during the ongoing Rabi season, 9 lakh metric ton wheat is expected to arrive in the district. 
The Deputy Commissioner said that till yet the administration has procured 883981 metric ton of the wheat in the various grain markets/purchase centers. 
Sharma said that the entire arrived stock has been purchased and administration has lifted 74 % wheat.  Sharma further said that so far payment worth Rs 1626.18 crore has been made to the farmers.
Following the directions of Deputy Commissioner, DFSC Sukhwinder Singh Gill visited various grain markets under Market committee Mullanpur and Kila Raipur along with inspectors Gurwinder Singh,  Manjit Sachdeva, Khushwant Singh, Harpreet Singh, Sahiljit Singh and Jaswinder Singh Pandher. He inspected the lifting process and ordered the contractors to arrange more labour /trucks to clear the stock immediately. He further asked the officials to ensure the stock is proper covered to save from inclement weather.