In support of farmers, Sonu Bajwa on tractor
This song has been written by Salmani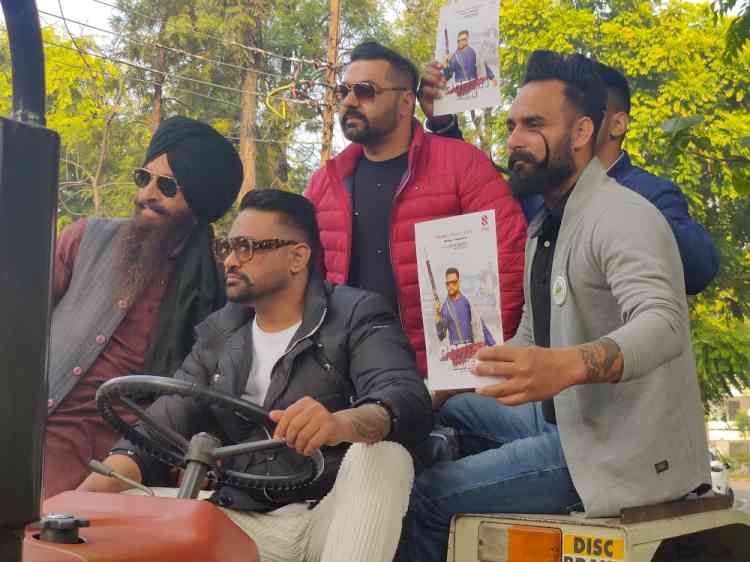 Chandigarh: Punjabi singer Sonu Bajwa extended support to Kisan movement by driving a tractor to the launch of the his new song 'Doaba Zone'.
On the occasion of the launch of his new song Doaba Zone, which supports the Kisan movement, he along with the team came to Chandigarh Press Club on a tractor. 
He said that be it the Punjabi film industry or Bollywood, the farmers are integral part in every industry.
Bajwa, who belongs to Jalandhar, extended his support to the ongoing farmer's protest."The Covid-19 pandemic has deeply influenced  Bollywood and Pollywood. This is my first song after the lockdown. I hope, it will be liked by many and all as it touches the most sensitive issue of ongoing farmer's protest," said Bajwa.
The video track Doaba Zone - Yaar Hoon Doabay ton  will mesmerize everyone.
Bajwa himself acted  in the new Punjabi video  track of Strings Communication. The song depicts the Jat culture of Doaba. 
"It will also be a superhit along the lines of the other  superhit track, " added Bajwa.
On this occasion, Mani Aujla said that the video has been shot in beautiful locations around Mohali. "Everyone will like it," added Aujla. Bajwa has been acting  in Punjabi films  for sixteen years performed mostly  negative characters in the industry
"My songs are source of entertainment. These songs have also gained a lot of popularity in my area Jalandhar too," said Bajwa.
This song has been written by Salmani. The song stars Arju as the female model. Sonu Bajwa told that the music of the song is given by Mani Aujla. Video editing by Dimple Bhullar and video mixing have been done by B Sanjh.