In 'Naya J&K', Tricolour flies high, cinema halls run housefull
In 'Naya Jammu and Kashmir', Tricolour is flying high and cinema halls are running housefull.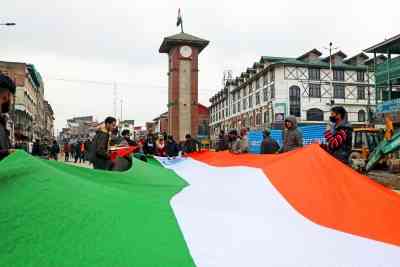 Source: IANS


Srinagar, Feb 11 (IANS) In 'Naya Jammu and Kashmir', Tricolour is flying high and cinema halls are running housefull.
Pakistan-sponsored terrorists and separatists, who used to threaten and intimidate nationalist people for hoisting the National Flag and visiting theatres, have been cut to size and shown their right place.
Scrapping of Article 370-A (a temporary provision in the Constitution) on August 5, 2019, has shown the way. All notions stand dispelled and the message is clear that the union territory has been merged completely with the Union of India, and no power on earth can snatch it.
By welcoming the change, people have endorsed the decision of Prime Minister Narendra Modi-led dispensation to end 70-year long status-quo of the Himalayan region.
During the past three years, the union territory has witnessed unprecedented development on all the fronts and the security scenario has improved. The security forces have cornered terrorists sent by Pakistan and the local recruitment in terror outfits has fallen to zero.
Separatists, who used to dance to the tunes of their 'masters' sitting across the Line of Control, have lost their addresses. They are no longer able to propagate the agenda of the neighbouring country in Kashmir. Their finances have been choked as the investigating agencies have booked them under stringent laws and blocked all Hawala channels through which illegal money used to flow into the union territory.
In a nutshell, the 'anti-national' elements, who used to threaten people for saluting the National Flag and talking about peace, have either passed away or are behind the bars.
People are enjoying real freedom after facing the Pakistan-sponsored onslaught for three decades. As of date, they are unfurling the National Flag and thronging cinema halls, restaurants, hotels and other places without any fear or threat.
PM Modi's viral video
Recently, a video clip of a speech dated January 24, 1992 given by Narendra Modi when he was somewhere in Kashmir on his way to Srinagar's Lal Chowk to unfurl the Tricolour as a part of the BJP's Ekta Yatra under the leadership of Dr Murli Manohar Joshi went viral on social media.
The clip depicted how bad the situation was in Kashmir in the 90's. In the video, Modi could be heard saying, "Terrorists have challenged that one who is a real son of his mother should try and dare to unfurl the Tricolour at the Lal Chowk of Srinagar. We will see if he manages to go back alive. I want to tell them, it is just a matter of a few hours before 26th January. Who is the real son of his mother, will be decided in the Lal Chowk of Srinagar on 26th January."
After this, he is seen with Dr Murli Manohar Joshi and other BJP workers waving the Tricolour at Lal Chowk.
Rahul reaches Lal Chowk after 32 years.
Last month, senior Congress leader and scion of Nehru-Gandhi family, Rahul Gandhi, ended his Bharat Jodo Yatra by unfurling a Tricolour at historic Lal Chowk in Srinagar. He walked through the streets of Kashmir without any threats from terrorists and the separatists. There was no shutdown, no stone-pelting, or any grenade attacks.
Till 2019, unfurling a Tricolour in Srinagar was considered to be a security threat as the terrorists and their supporters had created a fear psychosis that whosoever tries to do so will have to face the consequences.
Despite threats and intimidations, many nationalist people on the occasions like Independence and Republic Day used to appear at Lal Chowk and make attempts to unfurl the Tricolour. But former rulers instead of facilitating their endeavours, used to ensure that they don't succeed by directing the law enforcing agencies to arrest them.
None of the Congress leaders, even when they were a part of the ruling coalition in J&K, ever made an attempt to unfurl the Tricolour at Lal Chowk. It took nearly 32-years for Rahul Gandhi to reach Srinagar's city centre and send a message to adversaries that J&K is an integral part of India.
From 1990 to 2019 terrorists dictated terms
From 1990 to 2019, Pakistan-sponsored terrorists and the separatists hired by the people sitting across the LoC left no opportunity to keep the pot boiling in J&K. Denizens of the Himalayan region were made to participate in "anti-India" protests and observe shutdowns on the dint of the gun. Stooges of the neighbouring country used all the coercive ways to create a notion that every Kashmiri supported the terrorists and the separatists. They forced people into submission. Anyone who tried to oppose them was labeled as a mukhbir (informer) and shot dead.
When the gun-toting terrorists appeared on the streets of Srinagar in early nineties, they carried out the selective killings of the members of Kashmiri Pandit community. They closed down schools, colleges, cinema halls, stadiums, restaurants and hotels etc. They tried to control everything and ran a parallel system.
Former J&K regimes failed to deliver
Till security forces regained control, terrorists had done enough damage. Kashmiri Pandits had left everything behind and fled away, tourists had vanished, hotels and restaurants had pulled down their shutters and the education sector was hit hard.
Political regimes led by Kashmir based politicians that came into power from 1996 to 2018 made tall promises like they would bring back Kashmiri Pandits, reopen cinema halls, and create a conducive atmosphere for tourists. But they were unable to fulfill their commitments due to them sailing in two boats. In Delhi they used to swear by J&K's accession to India being final and in Kashmir they used to tell the separatists and Pakistan that peace cannot return to the Valley without them being made a party to the problem.
'Pathan' brings back memories
On August 5, 2019, Prime Minister Narendra Modi led dispensation "bit the bullet" by taking a historic decision about merging J&K completely with the Union of India.
Since then every effort has been put to restore the pristine glory of the union territory. During the past three years, tourists have thronged the Himalayan region in droves, displaced Kashmiri Pandits have started returning to the Valley, schools and colleges are functioning without any disruptions.
Cinema halls that remained closed for 32-years in Kashmir have reopened. Shahrukh Khan's movie 'Pathan' has brought back the memories of good old days when the cinema halls in Kashmir used to run house-full.
After three decades, the newly opened multiplex screening 'Pathan' in Srinagar ran house-full signifying a major change in Kashmir situation.
The fear psychosis created by the terrorists has disappeared as the people don't fear the gun anymore.
By hoisting National Flags atop their homes during the 'Har-Ghar-Tiranaga' campaign and by turning their backs towards Pakistan's 'agenda', people have sent a clear message that they want to prosper and move ahead in their lives, and they cannot be misled anymore.