In a first for tricity - Hospital starts free langar service for patients' relatives 
HIIMS hospital which has found favour with kidney and liver failure as also cancer patients starts langar service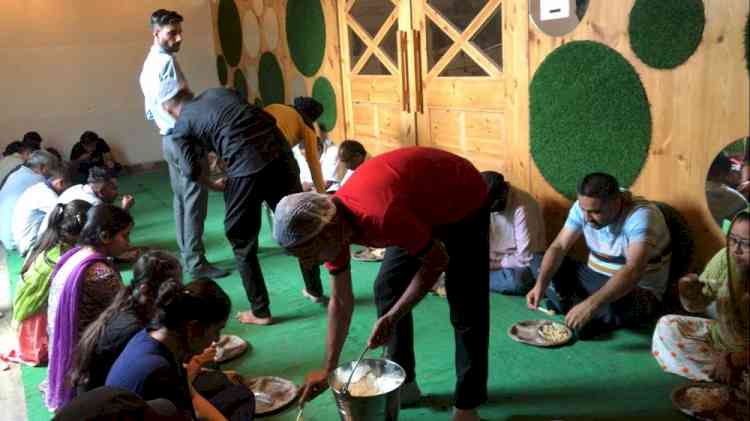 Chandigarh, July 10, 2022:  HIIMS - India's first integrated medical sciences hospital which has created a place for itself in the medical world due to its treatment of kidney failure, liver failure as also for cancer, has started a free langar service for patients' relatives at its premises in Derabassi, Mohali. Notably, it's for the time in the region that a permanent langar has been started, where proper arrangements have been made for free lunch and dinner for relatives' and attendants' of patients  by the hospital staff.
Ayurveda and Meditation Guru, Acharya Manish, who is also the founder of Shuddhi Ayurveda and HIIMS, Hospital said, "At HIIMS people come from far-flung areas for the treatment. Noticing the  issues of people who accompany the patients  at the hospital, we have arranged a free langar service at the hospital premises, which will be operational seven days a week."
It is imperative to mention  here that there is no such permanent arrangement of free food in any other hospital in the area.
HIIMS is India's first integrated medical sciences hospital with a unique healthcare facility focused on drug-free treatment based on Ayurveda, Naturopathy and Diet Therapy. The hospital is renowned for reversing the diseases like kidney failure, cancer, liver failure, sugar, BP  etc by increasing the internal strength of the body.
HIIMS Nature Care Centers have been established in various cities of North India including Derabassi, Zirakpur, Chandigarh, Patiala, Delhi, Amritsar, Jaipur, Jodhpur and Gurgaon. This hospital provides facilities of Ayurveda, Allopathy, Unani, Naturopathy, Homeopathy etc. HIIMS brings together the goodness and healing potential of various medical sciences under one roof.