Important contribution of NRI Society in development of education and health sector of Punjab: Dewan
Nijjar met PLIDB chairman at Udyog Bhavan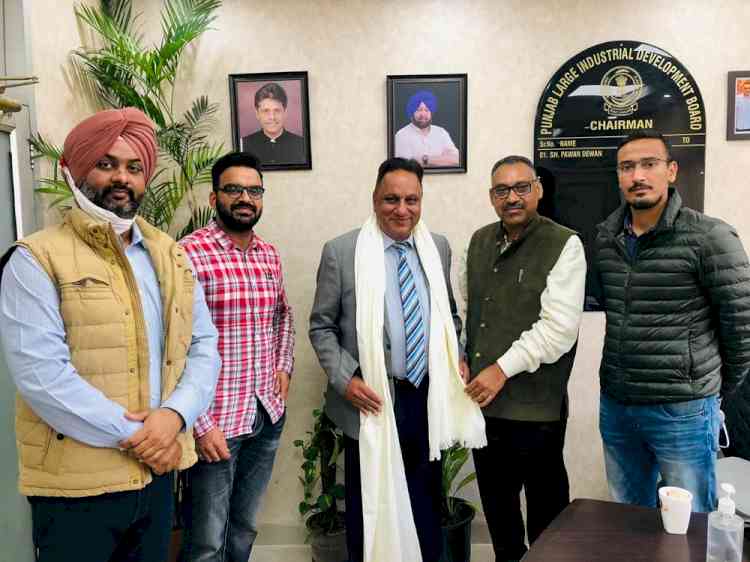 Chandigarh: Manjit Singh Nijjar, Coordinator in the UK and NRI of the Year for the NRI Affairs Department of the Punjab Government, met Pawan Dewan, Chairman of the Punjab Large Industrial Development Board, at his office in Udyog Bhawan. In addition to Nijjar,Harjinder Singh Chahal, the head of the Indian Overseas Congress, Germany, was also honoured by Dewan.

On this occasion, Dewan emphasized the importance of contribution of NRI's  in the development of Punjab, and said that the Punjab government under the leadership of Chief Minister Captain Amarinder Singh was continuously working for the empowerment of NRI's . Dewan  said that NRI brotherhood can contribute significantly for the development of education and health sector in the villages of the state. Apart from this, they should also take part in the industrial development of the state, so that along with economic reforms, the means of employment should also increase.

At the same time, Manjeet Singh Nijjar said that the industrial development of the state will increase the means of employment. He also stressed on improvement in education and health sector at the basic level, for which NRI society will fully cooperate.
On this occasion, Advocate Charanjit Singh, Gurpreet Virk and Rana Ishwinder Singh were also present.