ILAMED conducts live workshop on plasma medicine 
Experts from South Korea, Germany and India participate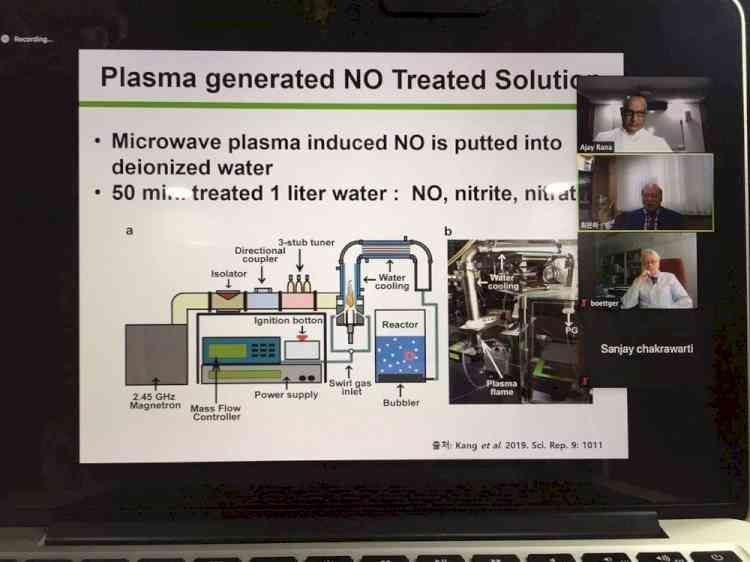 New Delhi: Institute of Laser and Aesthetic Medicine (ILAMED) known for its world class training and exclusive courses in Aesthetic Medicine & Surgery has been organising live CME sessions on various topics related to Aesthetic Medicine & Surgery like Lasers, Injectable, Chemical Peel, PRP, Cosmetic Gynaecology, Hair Transplantation and many other interesting hot topics from the past 4 months. In these sessions, world renowned experts and national/international faculties of ILAMED are actively involved. These programmes are jointly organised by Greifswald University, Germany (UoG); Indian Society of Aesthetic Medicine (ISAM); Indian Society of Mesotherapy (ISM); DALM Study Programme; Pan-American Institute of Aesthetic Medicine, Mexico (IPPC); Global Mediversity Pvt Ltd & Kwangwoon University, Seoul, South Korea & supported by National Centre for Plasma Medicine, Berlin; International Union of Aesthetic Medicine (UIME); Leibniz Institute of Plasma Science & Technology (INP), Greifswald, Germany.
ILAMED working on its motto; excellence in knowledge and its promise to bring more to the doctors, brought an interesting combined session on Plasma Medicine conducted by Dr. Ajay Rana, Director ILAMED; President, Indian Society of Aesthetic Medicine, Prof. Hans Robert Metelmann, Chairman, Plasma Medicine Centre, Berlin, Germany & Prof. Eun Ha Choi, Professor & Director, Plasma Bioscience Research Center & Applied Plasma Research Center, Kwangwoon University, Seoul, South Korea. In this live session, different aspects of Plasma Medicine usage in various aspects of human medicine and ways of generating it was discussed. It's most recent research in COVID-19 patient treatments and sanitisation aspects in hospitals and mobile care units has also been discussed.
"Excellent Session in Laser and other Energy Devices. Proud to be part of ILAMED Alumni and Proud of Dr Rana Sir for Huge Recognition as Aesthetic Physician World Wide. Thanks Sir for guiding us in World of Aesthetic Medicine with Latest Technology and Procedures as well as Products" said Dr. Randhir, Aesthetic Physician from Jammu, who attended this live session.
The main purpose of these live sessions are to enhance the skill of the fellow practitioners through usage of latest technologies on global perspective which are quite popular amongst the masses.  The programs are ideal for those looking for a fresh start in their career and also for senior physicians and surgeons looking for expansion of their practices.
"It was a prestigious moment for ILAMED to have two of the world renowned experts of Plasma Medicine Prof. Dr. Metelmann and Prof. Choi under the same roof. This is the first time that three experts have taken a combined session in Plasma Medicine. The slides, presentations, charts during the session were extremely informative, detailed and specific to the points of the subject. During the live session we shared our expertise knowledge in the field of Plasma Medicine with our colleague doctors and consultants who had attended the session" said Dr. Ajay Rana, Founder & Director of ILAMED.