IKGPTU staff experienced the journey of "Eternal Gratitude" on "International Women's Day"
University Registrar Dr. S.K. Misra joined as chief guest, his wife Advocate Anupama Misra was the guest of honor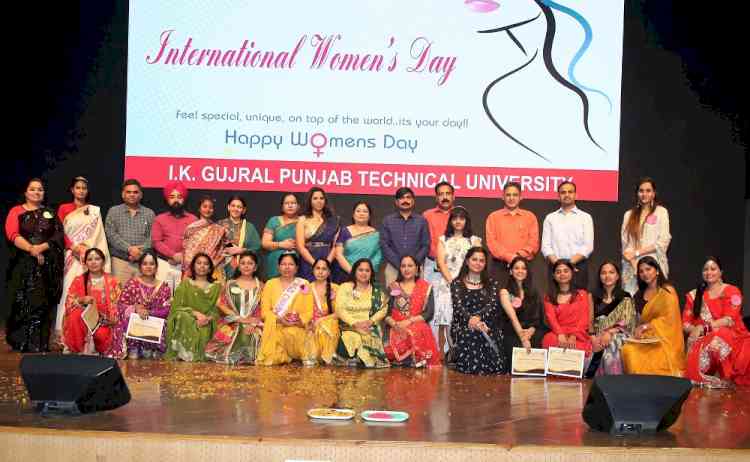 Jalandhar/Kapurthala, March 9, 2023: Everyone at I.K. Gujral Punjab Technical University (IKG PTU) experienced a journey of "Eternal Gratitude" on the occasion of "International Women's Day". This was an activity through which the university staff was taken through meditation and the pay gratitude through it, to the women associated with his or her life journey in relation to mother, sister, wife or in other roles from the past to the present. During the around 3 minute exercise, listening to the inner voice, breathing inside, everyone was made to show respect, touch the feet and express their gratitude to the women power involved in all relationships. This exercise was done by the Deputy Controller Dr. Nitya Sharma.
The ceremony began with the lighting of the lamp, in which University Registrar Dr. S.K Misra was the chief guest and his wife, Advocate Anupama Mishra, was the Guest of honor. Both the guests were welcomed by the Dean of various departments along with the organizing committee. Registrar Dr. Misra talked about women's respect, gender equality, pride of women in history and the importance of women's role in the present era. He also shared his views about the contribution of women in the development of various developed countries. The host team was congratulated by the Guest of Honor Advocate Anupama Misra.
On this occasion, A Retro group dance, Punjabi Bhangra was performed by the girl students of the University. The solo performance was given by Muskaan, Meenu Bala, Suman Lata & Disha. The Lady performer Sushil Bala, with her daughter performed in the movie "Kali-Jota" song. In the fashion show, the title of Miss Glorious, Assistant Professor Mangla Sahni of JMC department, Miss Charming title was given to Vinma and Miss Elegant title was given to Miss Harleen of Management department. Miss Navjot and Sukhwinder got the consolation prize. The stage was conducted by Dr. Navjot Kaur, Assistant Professor of Food Science Department and Harleen Kaur of Management Department. Vote of thanks was delivered by University Deputy Librarian Madhu Midda.
Dean P&EP cum Joint Registrar Dr. R.P.S Bedi, Dean Academic Prof. (Dr.) Vikas Chawla, Dean R&D Prof. (Dr.) Hitesh Sharma, Dean Student Welfare Dr. Gaurav Bhargava and Finance Officer Dr. Sukhbir Singh Walia, Deputy Registrar Mohali Campus Dr. Geet joined the occasion on a special invitation. Assistant Professor Dr. Ekta, Dr. Anshu Bhasin, Dr. Deepika Bhalla, Dr. Priyanka and others were present at the host part. All the women employees of the university had a special role in organizing this ceremony.