If possible don't return to Dharamshala: Tibetan PM to his community
Says avoid risk of carrying disease near Dalai Lama and CTA HQ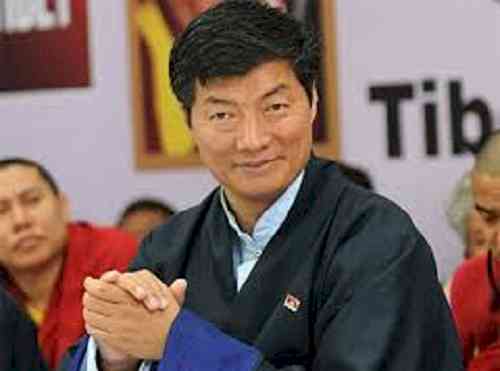 Tibetan Prime Minister, Lobsang Sangay.
Dharamshala:  Tibetan Prime Minister, Lobsang Sangay, a Tibetan politician who is the better known as Sikyong of the Tibetan-government-in-exile (CTA), in his routine press briefing on COVID-19 on Thursday ,the ongoing situation with the pandemic, highlighting the role of individual responsibility in combating the disease. He cited the example of the outbreak within China, observing that it followed a 5-month course-initial outbreak, multiplying, peaking before the curve flattened.
Referring to the daily toll rise in India from the detection of 2000 cases on April 14, to 4000 this week, he said that India's toll is not huge in terms of its population. He, however, cautioned against the ignorance of safety measures, which he pointed out, has worsened the situation in Europe and the US.
He urged Tibetans around the world, especially in Europe to follow precautionary measures as Europe is gradually reopening.
Concerning stranded Tibetans, Sikyong said that under the Home Department, a hotline had been established and shared with the public early on.
He informed, "Guidance has been issued for stranded people. While the Central Tibetan administration (CTA) is making every effort, it is difficult in some states to get the travel pass, due to the large migrant population returning home, every case has to be approved accordingly, costing more time. Contact concerned Tibetan Settlement Officer of the area, if one needs to return home urgently. "
Sangay stressed again for Dharamsala residents returning home to if possible stay in one place instead of journeying home. He stated the risk of carrying the disease in Dharamshala, the seat of His Holiness the Dalai Lama and CTA.
Sikyong then added with optimism that while the pandemic is going to peak in May and June, experts are suggesting the summer and rainy season might contain the spread, as in the case of SARS. Concurrently, some experts suggest it might return in the winter more intensely while propounding optimism in light of the more positive forecast.
He advised healthy practices like, drinking water, regular hand washing and wearing facemasks. The health department has procured facemasks and distributed them among the public and where shortage arose, they have ordered production of homemade masks.
To students appearing for the board exams, he said the Education Department is providing online instruction and stressed, preparation ahead of the critical exams.
Dr Kunchok Tsundue, the Managing Director of the Gangjon Finance spoke about the zero-interest loan scheme which would be made available for the Tibetan sweater-seller businesses in Green zones. However, he clarified that if a red zone region is listed as no risk after a 14 or 21 day period, the necessary loan disbursement will proceed accordingly.