If everything goes well Dharamshala shall witness many international matches in 2021: Arun Dhumal
Says, due to the ongoing Covid-19 Pandemic the cricketing activities had come to a standstill from March 2020 in the entire world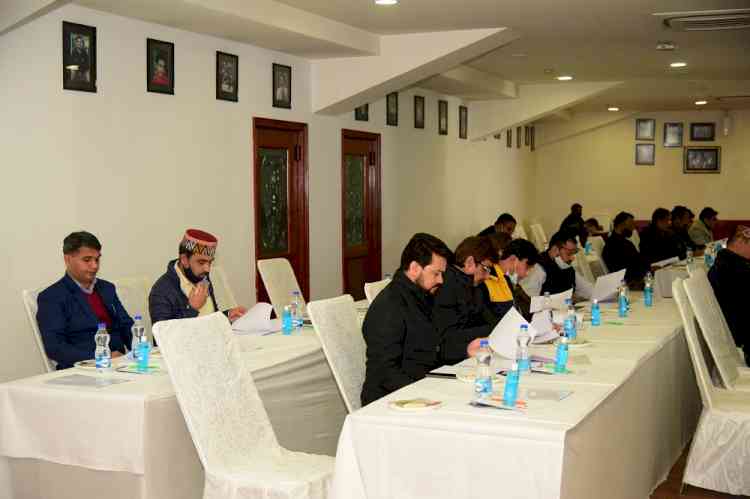 Dharamshala: "T-20 World Cup Tournament is scheduled to be played in India in the latter half of 2021. ICC have restricted it to only 7 venues in the country to avoid more travelling for players. I shall definitely try that Dharamshala could be selected as one of these 7 venues. If everything goes well Dharamshala shall witness many international matches in 2021," said BCCI Treasurer Arun Dhumal.
The 2021 ICC Men's T20 World Cup is scheduled to be the seventh ICC Men's T20 World Cup tournament, scheduled to be played in October and November 2021 in India. Originally, the tournament was to be held in Australia from 18 October to 15 November 2020.
Arun Singh Dhumal, was interacting with the media on 18th December 2020 at HPCA Cricket Stadium Dharamshala, after an AGM of HPCA here today. 
He said that due to the ongoing Covid-19 Pandemic the cricketing activities had come to a standstill from March 2020 in the entire world. BCCI at a juncture decided to take the initiative to restart world cricket and IPL 2020 was organised at Dubai.
"14 bio bubbles were created there and more than 30,000 Covid tests were conducted. And not even a single Covid positive was detected. 25% TV viewership has increased in this IPL tournament and it was rated the most successful IPL organised till date," added Dhumal.
Union Minister and former union president Anurag Thakur attended the meeting as a member. BCCI treasurer Arun Thakur also attended for the first time.
Arun said that the services of Ex HPCA President Anurag Thakur was appreciated in the meeting. He said, "The goodwill achieved by the ex-BCCI president Anurag Thakur in the world of Cricket, as the cricketing administrator of Indian Cricket is looked at with high regards in entire cricket playing countries. And it is an honour for us that Anurag Thakur belongs to HP."
The meeting was chaired by Vice President RP Singh and Sumit Sharma, Secretary of the Association, Treasurer Avnish Parmar, Amitabh Sharma, Sanjay Sharma, Prem Thakur, and all the members were present in the meeting. / (December 19, 2020)