ICAR-CIPHET organised webinar on 'Protected Agriculture-- The Next Generation Agriculture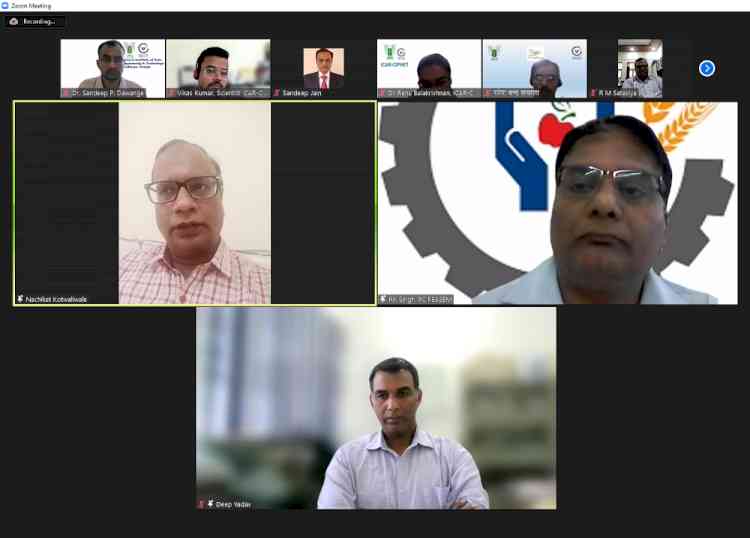 Ludhiana, October 26, 2021: ICAR- Central Institute of Post-Harvest Engineering & Technology, Ludhiana is organising a 'National Webinar Series on CIPHET-Post-harvest Technologies' virtually to commemorate 75 years of Independence during 15 Aug 2021-15 August 2022 with the theme 'Aazadi Ka Amrit Mahaotsav (आज़ादी का अमृत महोत्सव)'. A webinar, third in the series, on the topic 'Protected Agriculture - The Next Generation Agriculture' was organised today (26 October 2021). 
Dr. Nachiket Kotwaliwale, Director, ICAR-CIPHET emphasised on need of this technological advancement in wake of climate change and abrupt behaviour of the natural forces. Dr. R. K. Singh, Project Coordinator, AICRP on Plastic Engineering in Agriculture Structure and Environment Management (PEASEM) delivered the lecture. He aptly highlighted recent developments in the area of protected cultivation and accentuated its role in sustaining the agricultural production to cope up with ever-increasing food demand. About 80 participants including experts in the field, scientist from different institutes, AICRP centers, KVKs, farmers, entrepreneurs, and students joined the session and actively discussed pertaining issues. 
Under the guidance of Dr. Nachiket Kotwaliwale, the Director, ICAR-CIPHET, Ludhiana, this webinar series is being coordinated by Dr. D.N. Yadav, Pr. Scientist and Mr. Vikas Kumar and Dr. Sandeep Dawange, scientists of Transfer of Technology Division of the institute. One technology per month will be presented/demonstrated online to the stakeholders in the last week of every month up to August, 2022. The Fourth webinar of the series is on topic 'Plant Based Dairy Analogues: A Healthy Choice' and will be delivered by Dr. D. N. Yadav on 29 november 2021.