ICAR-CIPHET, Ludhiana organized 3-day EDP on `Fish Processing and Value Addition'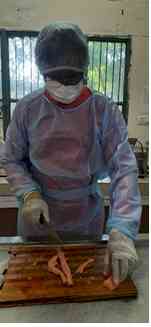 Participant making fish finger from Pangas fish fillet.
Ludhiana, September 17, 2021: ICAR-Central Institute of Post-Harvest Engineering and Technology Institute (CIPHET), Ludhiana organized a 3 days Entrepreneurship Development Program (EDP) on 'Fish Processing and Value Addition' during 14.06.2021 to 16.09.2021 to impart entrepreneurship skill in fish farmer from Hyderabad (Telangana). Participant was taught about hygienic handling of fish and fishery product fish, live fish carrier system and fish cleaning station developed by the institute, why and how of fish processing and value addition, development of value-added fish products, fish processing machineries used in the preparation of value-added fish products, utilization  of by-product from fish and fishery products, packaging of fish and fisheries products, fish quality assurance and management, entrepreneurship opportunities in fish processing, preparation of good quality dried fish products, FSSAI regulations and standards for value added fish and fishery products. Hands-on-training was imparted to participant in handling fish and development of value added fish products. Mr. Udaykiran, a fish farmer having ponds in 25 acre land told that he learned a lot from this training and he will set up tilapia filleting unit to tap its the market potential in Hyderabad.  This EDP was organized with College of Fisheries, Ludhiana as a part of Aazadi Ka Amrit Mahotsav. Under the direction of Dr. Nachiket Kotwaliwale, Director, ICAR-CIPHET, Ludhiana and the guidance of Dr. D.N. Yadav, Head, TOT division, the EDP was led by Mr. Vikas Kumar, Scientist (Fish Processing Technology) and coordinated by Dr. K. Bembem, Scientist.