IBM unveils new generation of IBM Power servers for frictionless, scalable hybrid cloud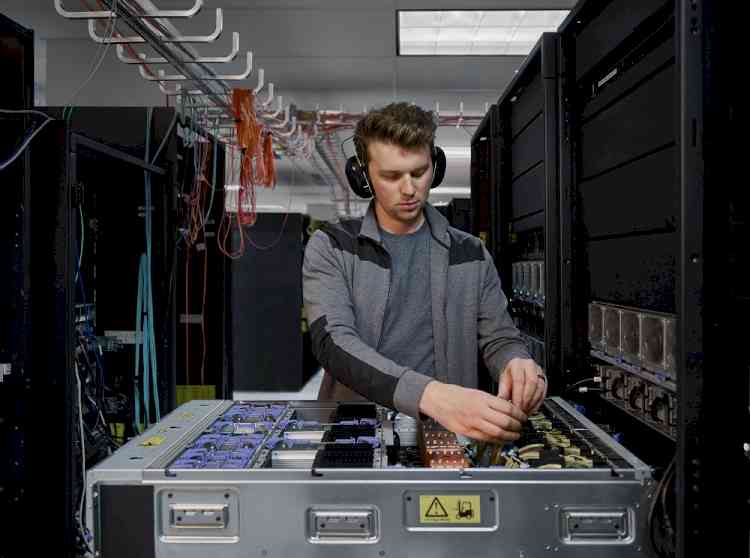 IBM Power E1080 in the Lab: An engineer works on the IBM Power E1080. The IBM Power E1080 was designed from the ground-up for hybrid cloud environments. Photo credit: IBM
Bengaluru, September 8, 2021: IBM today announced the new IBM Power E1080 server, the first in a new family of servers based on the new IBM Power10 processor, designed specifically for hybrid cloud environments. The IBM Power10-equipped E1080 server is engineered to be one of the most secured server platforms and is designed to help clients operate a secured, frictionless hybrid cloud experience across their entire IT infrastructure.
The IBM Power E1080 server is launching at a critical time for IT. As organizations around the world continue to adapt to unpredictable changes in consumer behaviors and needs, they need a platform that can deliver their applications and insights securely where and when they need them. The IBM Institute of Business Value's 2021 CEO Study found that, of the 3,000 CEOs surveyed, 56% emphasized the need to enhance operational agility and flexibility when asked what they'll most aggressively pursue over the next two to three years.
Many see the answer to this need in a hybrid cloud computing model, which combines on-premises resources with cloud-based infrastructure and can offer up to 2.5x greater value than a public cloud-only approach. However not all hybrid cloud models are designed equally.
"When we were designing the E1080, we had to be cognizant of how the pandemic was changing not only consumer behavior, but also our customer's behavior and needs from their IT infrastructure," said Dylan Boday, VP of Product Management for AI and Hybrid Cloud. "The E1080 is IBM's first system designed from the silicon up for hybrid cloud environments, a system tailor-built to serve as the foundation for our vision of a dynamic and secure, frictionless hybrid cloud experience."