I Vote I Lead campaign launched by DC with city's youth of Initiators of Change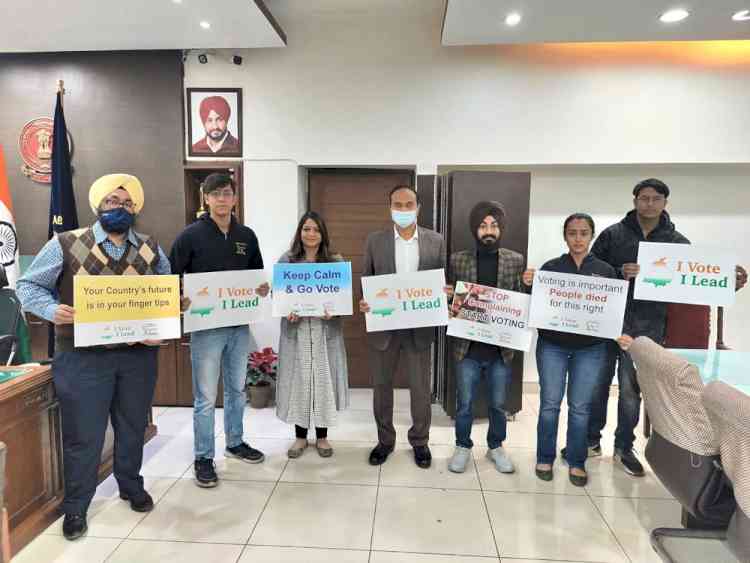 Ludhiana, December 2, 2021: District Administration Ludhiana launched 3 month long 'I Vote I Lead Campaign' in collaboration with the City based youth empowerment organization Initiators of Change at DC Office complex today to ensure maximum participation of voters in the upcoming state assembly elections.
The Campaign was launched by Deputy Commissioner Ludhiana Varinder Kumar Sharma and ADC Jagraon cum SVEEP Nodal Officer Ludhiana Dr. Nayan Jassal.
A team of more than 200 young volunteers from the city will be a part of the campaign and conduct several activities in a phased manner. The organization has been working on voting rights and voter awareness with district administration Ludhiana since 2015 and has been awarded with the National Youth Award by the same as well. Present at the launch were Chairman of Initiators of Change Gauravdeep Singh, president Arshia Lekhi and Vice President Neeraj Jolly, SDM Raikot Gurbir Singh Kohli.
The campaign this is launched at state level under the guidance of Dr. S Karuna Raju chief electoral officer Punjab, we will be conducting various activities in two phases. In the first phase seminars will be taken in colleges for electoral literacy among first time voters. In the second phase which starts from mid December activities such as Nukkar Nataks, flash mobs, human chains, Bike rallies, marathons, Chon sathh in villages will be organized."