I never asked for help of China for restoration of Article 370 in Valley: Farooq Abdullah
Abdullah had come to Saragarhi Memorial today to pay obeisance to the 22 valiant soldiers of the 36 Sikh Regiment of the British Indian Army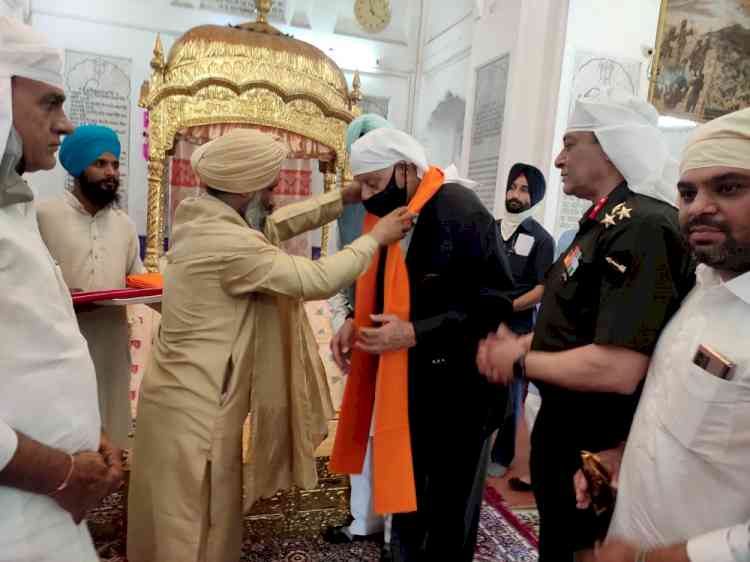 Ferozepur: While slamming the BJP led NDA, former Chief Minister of Jammu and Kashmir and President of the J&K National Conference President Farooq Abdullah today said that Section 370, which conferred special status of Jammu and Kashmir, was the right of the people belonging to J&K. However, Abdullah denied that he ever asked for the help of China for the restoration of the Article 370 which was scrapped in August 201 9 by the parliament.
Farooq Abdullah had come to Saragarhi memorial situated in this border town today to pay obeisance to the 22 valiant soldiers of the 36 Sikh Regiment of the British Indian Army who died fighting against the might of over 10,000 Afridis during the battle of Saragarhi on September 12, 1897 in North West Frontier Province. Abdullah was welcomed by State Cabinet Minister Rana Gurmit Singh Sodhi at his residence.
While addressing the media persons, Abdullah said that both China and India are powerful nations but he will always stand with India.  While talking about the Article 370, Abdullah said that since the nullification of Article 370 in the valley, several small scale industries have been destroyed. There is no plan to establish new industry in the state. I don't know what kind of development is this", said Abdullah.
While talking about the farmer's agitation, Abdullah said that their party had opposed the three agri-bills. "I had suggested to forward the draft of these agri-bills to the standing committee. The government should talk to the farmers and repeal these laws. The matter should be resolved as soon as possible", said Abdullah.
While firing more salvos on BJP leadership, Abdullah said that as soon as the election time approaches, people are divided in the name of religion. "The elections have divided us as Hindu, Muslim. This is the country of Mahatama Gandhi but people should not be discriminated on the name of temple and mosque.",he said.