Hyderabad Runners Society organized Inaugural Edition of "Stadium Run" in association with The Gaudium
More than 350 runners participated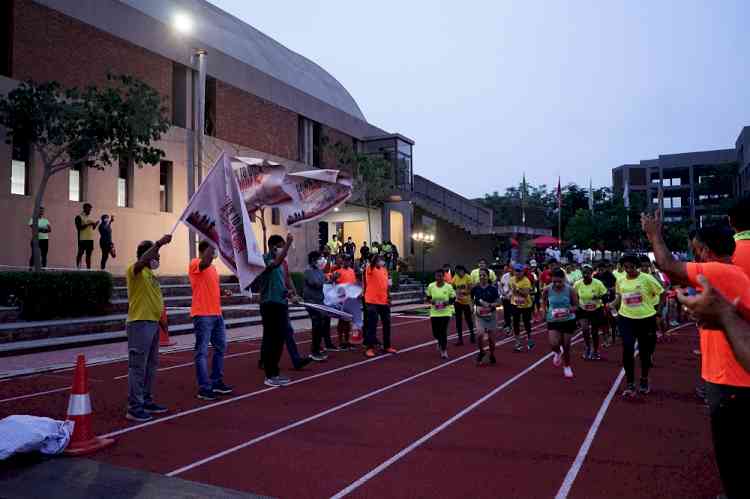 Hyderabad, August 28, 2021: Hyderabad Runners Society hosted the Inaugural Edition of "Stadium Run" in association with The Gaudium Sportopia. It is a Dawn to Dusk running challenge, which started at 6am and finished at 6pm. More than 350 runners participated including outstation runners. 40 solo runners and 52 teams participated in team relay run.
The race was flagged off by Mr B M Santhosh, IAS, Project Director ORR, Managing director Hyderabad Growth Corridor along with Mr Nityananda Reddy, Chairman, The Gaudium Group, Ms Kirthi Reddy, Founder & Director, The Gaudium Group.
The Inaugural Edition of "Stadium Run" organized in the same weekend of Airtel Hyderabad Marathon this year, as the marathon is postponed to later date due to covid situation. The Gaudium Group and Hyderabad Runners, has grown by leaps and bounds in terms of popularity and participation year on year.
With a choice of distance suited to every class of runner, be it the seasoned marathoner or a first-time runner taking baby steps, the run was conducted by following all the COVID protocols. Ably supported by the volunteers from Hyderabad Runners and the Gaudium group. The location was too conducive in ensuring the runners were able to enjoy the run to fullest.
The whole event was meticulously planned keeping in mind the current COVID situation. A team of 70+ Doctors and paramedics from CARE hospitals were readily available to attend to any medical emergencies. With the support of the District police administration of Sangareddy, the event was sure to have a safe running path. Every participant ensured that each of the guidelines given were followed and monitored by the Hyderabad Runners volunteers. 
Flagging off the event Mr B M Santhosh, IAS, Project Director ORR, applauded the arrangements made which ensured all the safety and hygiene norms and wished all the runners the very best. Mr Nityananda Reddy shared his pleasure in hosting the event at The Gaudium Campus. While Ms Kirthi Reddy, was delighted to see the campus coming alive with all the positive energy and was happy to ensure that she is open to host more such events in the future too.