Hyderabad-Bengaluru Vande Bharat Express from next week
Hyderabad and Bengaluru are all set to be connected by Vande Bharat Express from September 25.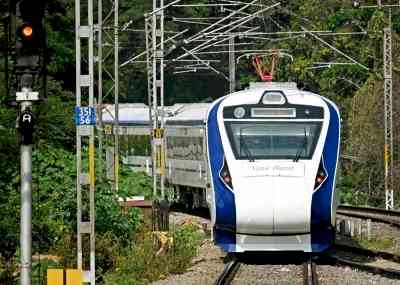 Source: IANS


Hyderabad, Sep 21 (IANS) Hyderabad and Bengaluru are all set to be connected by Vande Bharat Express from September 25.
Kacheguda-Yeswantpur Vande Bharat will be flagged off by Prime Minister Narendra Modi virtually from Delhi on September 24. The commercial operations will commence the next day, railway officials said.
Union minister for tourism and culture G. Kishan Reddy and senior officials will attend the programme to be held at Kacheguda Station.
This Vande Bharat Express will cover a distance of 609 km between the two tech hubs in eight hours and 30 minutes.
Train no. 20703 Kacheguda - Yeswantpur will depart from Kacheguda at 5.30 a.m. on and will reach Yeswantpur at 2 p.m. with stoppages at Mahabubnagar, Kurnool, Anantapur, Dharmavaram and Hindupur.
On the return journey, Train no. 20704 Yeswantpur - Kacheguda, will depart from Yeswantpur at 2:45 p.m. and arrive at Kacheguda at 11:15 p.m.
Prime Minister Narendra Modi is likely to inaugurate nine Vande Bharat trains on September 24.
These include Vijayawada-Chennai Vande Bharat. The train will be operated on all days of the week except Thursday.
It will depart from Vijayawada at 5.30 a.m. and reach Chennai at 12.10 p.m. with stoppages at Tenali, Ongole, Nellore and Renigunta. In the return direction, the train will depart from Chennai at 3.20 p.m. and reach Vijayawada at 10 p.m.
According to railway officials, new Vande Bharat trains have been incorporated with several new features for enhanced passenger comfort.
Currently, 25 pairs of Vande Bharat trains are being operated across Indian Railways. In South Central Railway, two pairs have been running successfully with 120 per cent patronage. These trains are Secunderabad-Tirupati-Secunderabad and Secunderabad-Visakhapatnam-Secunderabad.