Hussain Ajani presents 'Kaise Kahoon' sung by Natasha Baig
Natasha Baig is known to make some soulful tracks with movie songs like 'Jhoom Le' and 'Ishq Lara'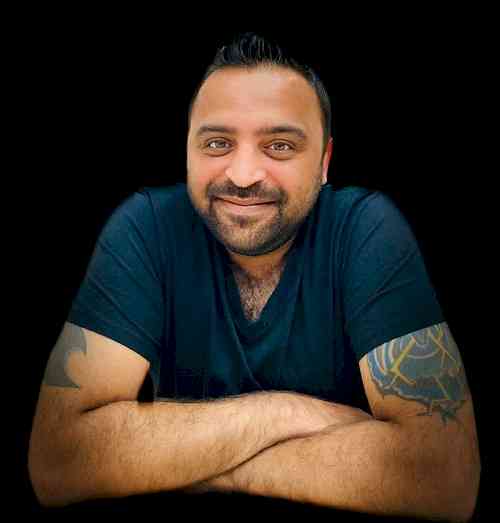 Hussain Ajani.
Dallas based producer Hussain Ajani is releasing his second track titled 'Kaise Kahoon', sung by Natasha Baig, on his YouTube channel, while the first track he released last month was titled 'Jugni' - sung by Jabar Abbas. Jugni has received a lot of appreciation so much so that even though it was just the first track to release on his YouTube channel, still it crossed 200 thousand views in 2 days.
 
Natasha Baig, who is known to make some soulful tracks with movie songs like 'Jhoom Le' and 'Ishq Lara' under her belt, also garnered a lot of love for her songs in Coke Studio, and an independent track titled 'Mushkil Kusha' with Dallas based music composer Ayaz Ismail on the occasion of Eid. The song was widely appreciated across the world.
 
Talking about Kaise Kahoon, Natasha tells, "Well, this track is about one-sided love and the process that a person goes through in that phase. The special thing about this song is that I sang modern Ghazal for the first time and the way it is produced is phenomenal. This is the beauty of collaborations, because one gets to see different horizons."
 
When asked, since this is her second collaboration with Ayaz, and Mushkil Kusha was widely appreciated by the audience, what she has to say about this track, she said, "I am glad that I got connected to Ayaz Ismail, because I became a fan of his work. Even with Mushkil Kusha, I felt as if I was doing something unique from my usual style, which was fun. I am glad, Mushkil Kusha got due recognition. Ayaz Ismail's style of work is intriguing, because he is doing something that I am not, and I would say you won't see such type of work in my country, so that zone caught my attention and that is why I enjoy collaborating with him. This song will hit my fans in a good way, because they haven't experienced something like this before."
 
We asked her that this was her first collaboration with Hussain Ajani, what do you have to say about him, to which she replied, "Yes, it's my first collaboration with Hussain Ajani and I have to say that ee is the most chill and professional person to work with. He is to the point and I love that thing about him. This collaboration went so smooth and I think that is because of his professionalism. I am happy to be a part of his label."
 
As luck would have it, this track is mixed by Ayaz Ismail as well, this is what he had to say about his experience on working the series, "It's been a pleasure working with Hussain Ajani. This project has been special so far, and exploring different genres of music is even more intriguing. The first song 'Jugni' did well, sung by Jabar Abbas, and now I am looking forward to this next one, sung by Natasha Baig, who is fantastic, and working with her once again has been special. The texture of her voice is very mystical and the composition by Quaid Ahmed is just magical. It's been a pleasure working with Hussain Ajani and Natasha Baig. Looking forward to many more."