HRATS Announces its new President and Executive Committee for 2021-2023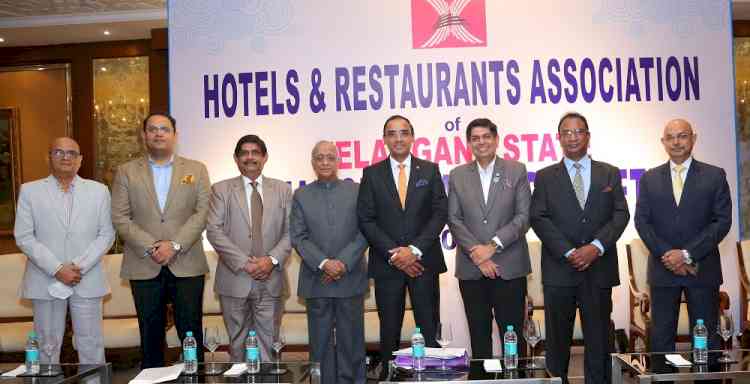 Hyderabad, October 10, 2021, The Hotels and Restaurants Association of Telangana State, elected its new executive committee for a two-year term (2021-2023).
Mr Ian Dubier, Area Director- IHCL, Hyderabad and General Manager of Taj Krishna, was elected as the new president of HRATS. Having spent more 25 years in the hospitality industry, he brings to the table a vast experience of successfully managing hotels, both in domestic and international destinations, of South Asia's largest hospitality focused company, The Indian Hotels Company Ltd. (IHCL).
The new Executive committee, consists of accomplished hospitality professionals:
·         Mr Manish Dayya, General manager, Novotel Convention Centre & HICC (Vice President)
·         Mr Parag Sawhney, General Manager, The Westin Hyderabad Mindspace (Vice President)
·         Mr Sandeep Joshi, Cluster GM- West India Radisson Hotels & General Manager, Radisson Blu Plaza (Vice President)
·         Mr Reginald Corbett, Regional Manager Hyderabad & General Manager, Lemon Tree Premier (General Secretary)
·         Mr Rohit Ahuja, General Manager, The Daspalla Hotel (Jt. Secretary & Treasurer).
·         Sailesh Mathur, Group General Manager, Sri Venkateshwara Group of Hotels (Exec Member)
·         Mr Pradeep Mathur – Hospitality Consultant (Exec Member)
·         Mr Ravish Dave, VP Operations & GM Quality Inn Residency (Exec Member)
Speaking at the recently held Annual General Body meeting, Mr Dubier thanked the previous team for their valuable contribution, during a very tough period for the entire hospitality industry. He further added that the immediate focus, will be to create a road map for collaboration and engagement among the members, as well as to continually dialogue with all stakeholders, in order to provide support to the hospitality sector and focus on building tourism in the state of Telangana.
HRATS members mainly consists of Star hotels, Premium Standalone Restaurants, Pubs and Hospitality Institutions in the state of Telangana.