HPCA to make its SOP before opening stadiums and cricketing activities in Himachal: Sumit
Dharamshala stadium so far has hosted one test match, 3 ODIs and 2 - T 20 international matches to its credit beside many international world cup qualifier matches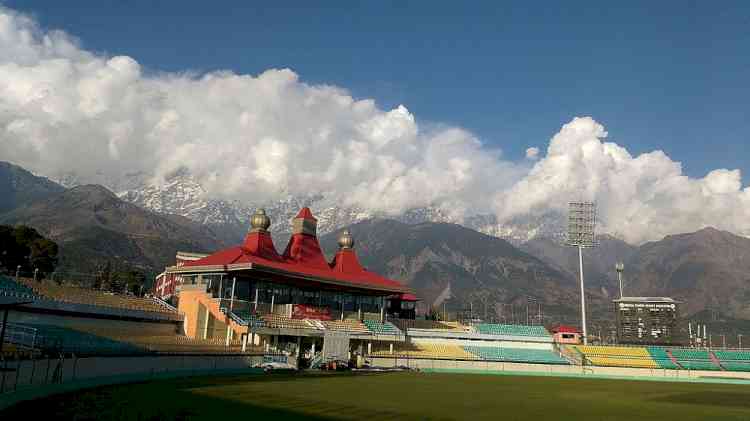 Dharamshala: Since the rain washed India vs South Africa International T20 match  at Dharamshala on March 12 this year, all the cricketing activities have been ceased with  the closer of  all  Himachal Pradesh Cricket Association (HPCA) stadiums in the state due to Covid-19.

Now, as the unlock 5 has been implemented in the country, HPCA too rolled up its sleeves to restart the cricketing activities. The APEX Council meeting of Himachal Pradesh Cricket Association was held yesterday under the chairmanship of RP Singh (Vice President of HPCA) to discuss the resumption  of  the stalled cricketing activities.

Informing this, the HPCA secretary Sumit Sharma said, "It was decided unanimously in the meeting that a standard operating procedure (SOP) shall be prepared for HPCA and its concerned district cricket associations, to be used to initiate sports activities in the state. A four-member committee including Amitabh Sharma,  Dr. Kinjal Suratwala, Dr. Suresh Rathore and Dr. RS Rana was constituted to submit its report on SOP in 30 days." Sumit added that HPCA's SOP will be implemented in accordance to  the guidelines of the state government and local administration.

Sharma said that the SOP would be applicable to all cricket stadiums, grounds, players, support staff, ground men, office staff, visitors, indoor practice area activities, various sub-centers and cricket academies.

HPCA is better known for its International Cricket stadium in Dharamshala, which is a picturesque cricket stadium, situated at an altitude of 1,457 m above the sea level and has the snow-capped Himalayan mountains in the background in Dharamshala North India. The town of Dharamshala is best known internationally as the home of the Dalai Lama of Tibet.

It hosted its first ODI in January 2013, between India and England, despite snow falling at the ground in the preceding weeks. The 2010 expansion of the IPL brought Dharamshala wider attention and it has the potential to become one of India's most popular venues.

Dharamshala stadium so far has hosted one test match, 3 ODIs and 2 - T 20 international matches to its credit beside many international world cup qualifier matches.