HPCA to ensure rain free ODI On Mar 12
Will perform Indrunag Puja on Mar 7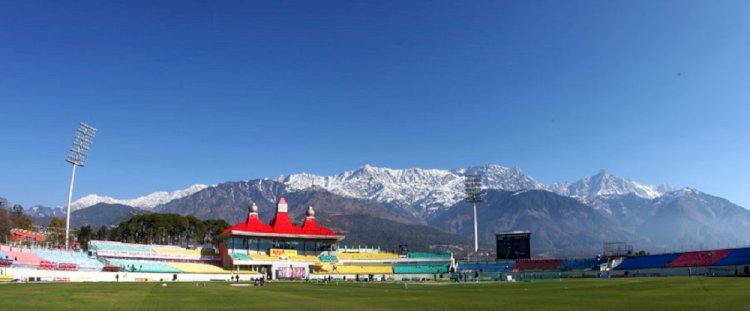 Dharamshala: Dharamshala is fully ready to host the much awaited ODI between India and South Africa here on 12th March.
HPCA officials have formulated a strategy for the successful hosting of the first match of the India-South Africa ODI series to be held on March 12 at the International Cricket Stadium Dharamshala.
To ensure no rain during the match, the Himachal Pradesh Cricket Association (HPCA) will organize a special puja and bhandare on March 7 at rain  deity of Dharamshala in  Indrunag and apologize for the previous mistake.
To remind here the T20 match between these two teams was totally washed out here on 15th September last year.  on that day a sharp spell of afternoon thundershowers lashed this Himachal hill city ahead of the first T20 International between India and South Africa here on Sunday,on15september 2019 .
It is the first international match being organised here after the induction on president of Himachal Pradesh Cricket Association (HPCA) Arun Dhumal as treasurer-elect in BCCI. HPCA Secretary Sumit Sharma said that invitations will be sent to Union Minister of State for Finance Anurag Singh Thakur and CM Jairam Thakur for this match. Ex BCCI President Anurag Thakur remains the President of HPCA for 18 long years since 2000. Arun Dhumal is the younger brother of MOS Finance Anurag Thakur. BCCI officials will also be invited.
On the question of students not being exempted from the last few matches in match tickets, Sumit Sharma said that it has not been decided yet.
 An Administrative committees have also been constituted by HPCA for the success of the match, which will hold meetings at their level. HPCA has already been involved in the preparations for the match and the operations including infrastructure are also in full swing.
Both India and South Africa ODI teams shall reach Dharamshala on 10th March.
Meanwhile South Africa's premier pacer Kagiso Rabada has been ruled out of the three-match ODI series against India after sustaining a groin strain which has abruptly ended his ongoing series against Australia He has been further ruled out of the team's subsequent tour to India starting March 12, and faces a race to get fit in time for Delhi Capitals' IPL opener on March 30.
 Himachal Pradesh Cricket Association Stadium, abbreviated as the HPCA Stadium, is a picturesque cricket stadium located in the city of Dharamshala in Himachal Pradesh, India. The town of Dharamshala is best known internationally as the home of the Dalai Lama of Tibet.
The stadium has hosted 1 Test, 4 ODIs and 8 T20Is to date.