House to house survey to ensure every eligible resident gets vaccine dose -DC Vishesh Sarangal
Joint teams of ANMs, ASHAs and Anganwari Workers to complete survey in mission mode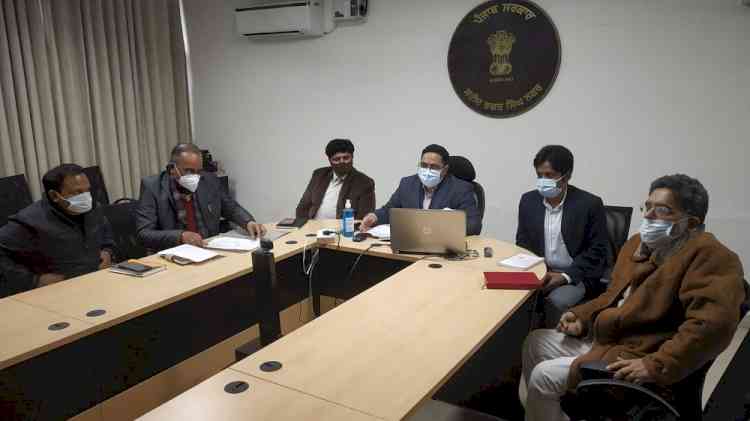 Nawanshahr, January 24, 2022: Deputy Commissioner Vishesh Sarangal on Monday said that the district administration has initiated a door to door survey through ANMs Asha and Anganwari workers to ensure every entitiled persons gets both doses of Covid-19 vaccine in the district.
Participating a virtual meeting presided over by special chief secretary Ravneet Kaur, Deputy Commissioner said that ANMs, Asha and Anganwari workers have been given fixed targets to ensure every house gets covered in mission mode.
He said that joint teams of ANMs, ASHAs and Anganwari workers have already been formed and teams are moving with immunization kits to ensure 100 percent coverage of people in their areas.
Sarangal told that the vaccination camps are being organised in almost every nook and corner of the district to cover all beneficiaries through mobile teams.
He said that vaccine is the only effective weapon to bring normalcy and the district administration will leave no stone unturned by vaccinating every eligible.
Deputy Commissioner assured that vaccination helps in boosting immunity in our body that helps in fighting Covid even if one gets infected.
He said that the supply and stock of the COVID-19 vaccine is available in sufficient quantity in the district.
He asked the health officials to ensure intensive awareness drive with special focus on the second dose as it is vital for full protection through social media, TV/radio jingles, posters/banners and other ways.
On the occasion, Additional Deputy Commissioners Jasbir Singh, Amit Sareen, Amardeep Singh Bains, Sub Divisional Magistrates Dr Baljinder Singh Dhillon, Navneet Kaur Bal, Deepak Rohilla, Civil Surgeon Dr Davinder Dhanda and others.