Home Science students participate in migratory birds watching and swatchta abhiyan at Sukhna Lake
Refreshments were also served to all participants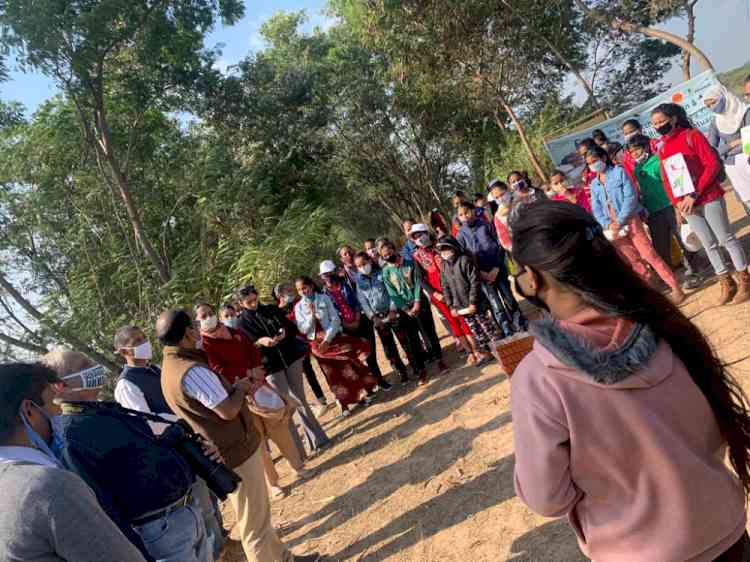 Chandigarh: Home science College organised Migratory Bird watching and Swachhata Walk at Sukhna lake in collaboration with the NGO Yuvsatta and Department of Environment, Chandigarh Administration. Over 40 students along with faculty member Ms Seema Jaitely enjoyed sights of hundreds of migratory birds who had come to Chandigarh from far off places. The Chief guests of the events were Mr. Debendra Dalai, CCF, Director, Department of Environment, Chandigarh Administration and Mr. Kulbhushan Kawal, an environmentalist. Addressing the young students, Chief guest Sh. Debendra Dalai shared that every year, with the onset of winter, hundreds of migratory birds flock to Sukhna lake from far-off place and other water bodies in the sanctuary,as Chandigarh is on the flight path of many migratory birds, which fly from Himalayas and even far-off places such as Central Asia, Siberia, Europe, China and Japan.  

As a measure of staying safe and to prevent spread of novel coronavirus, hand sanitisers and masks were also distributed to the students. Refreshments were also served to all participants. 
In the end, Pramod Sharma, Coordinator of Yuvsatta-NGO also conducted   Placard making competition on the theme Swachhata. Tina of  B.Sc. (HSc) 1st year, Prateek and Ekam of B.Sc. (HSc) II year won trophies. Principal Professor Sudha Katyal appreciated such initiatives and added that bird watching in the lap of nature has  enabled the students to enjoy the environment while taking time away from screens and  revel in the stillness of the world around them.